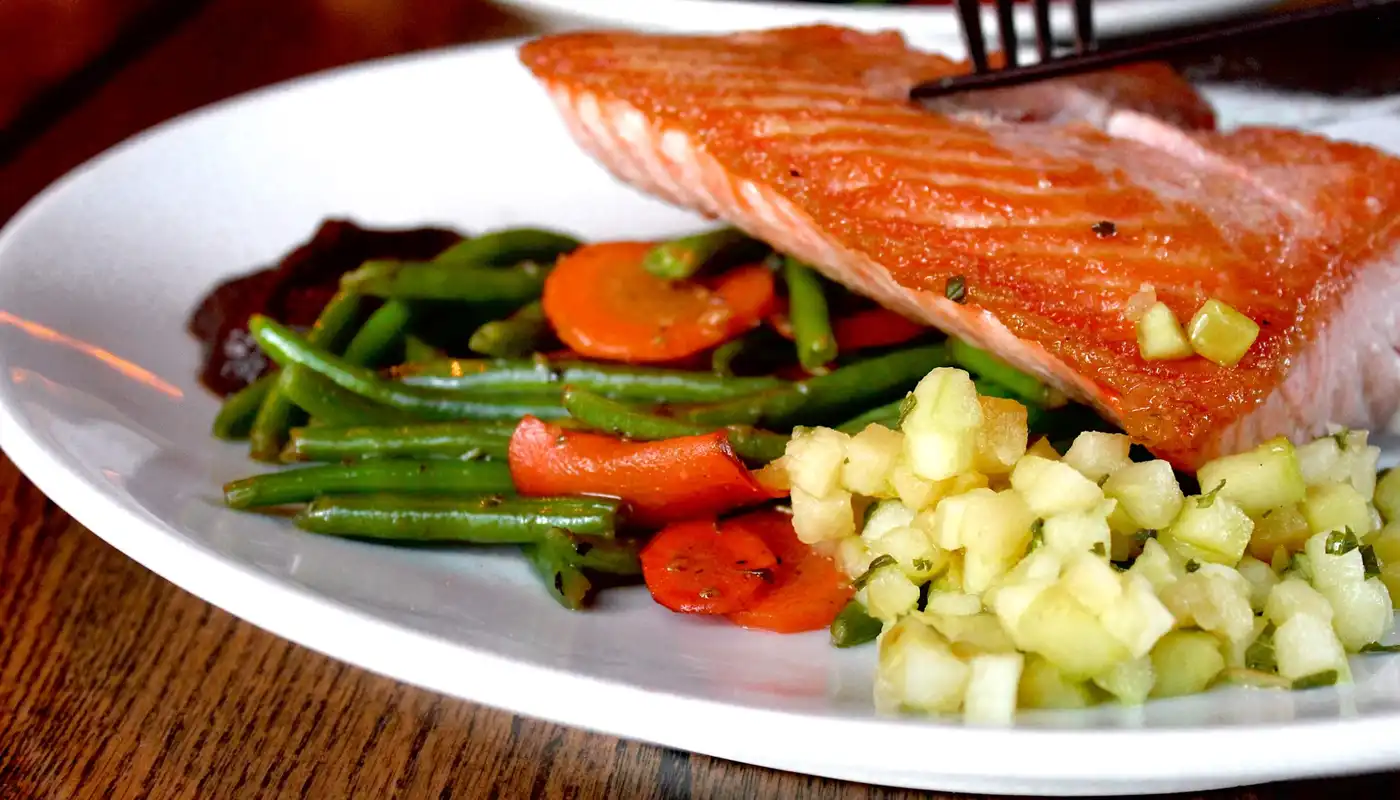 2023 Menus
Special, local creations for every palate. BBQ Bacon Grilled Chicken Sandwich
Grilled marinated chicken breast topped with smoked gouda, crispy bacon, pickled jalapeno, apple bourbon bbq sauce and crispy fried onion strings
Bulgogi Steak Nachos
Korean bbq beef on wonton chips topped with pepper jack cheese queso, kimchi, sesame, and scallion
Crispy Avocado Cups
Panko breaded avocado stuffed with sauteed shrimp, jalapeno corn salsa and cilantro crema
---
Steak Carne Asada
Flat iron steak, watermelon salsa, avocado mousse, black lime crema, crispy tortilla
Churro Cake
Cinnamon sugar dusted churro cake, dulce de leche cream, honey custard, spiced chocolate cookie
---
Cherry Bourbon BBQ Pork Pizza
House smoked pork, cherry bourbon BBQ sauce, chevre cheese, mozzarella, diced red onion, basil pesto drizzle
B&B Dip
Broccoli, Applewood smoked bacon, cream cheese, sharp cheddar, parmesan, and green onion, served warm with toasted ciabatta
Pom Pom Sour
Straight bourbon whiskey, pomegranate syrup, lemon juice, and lime juice. Served up or on the rocks
Just Peachy
Bagger vodka, peach syrup, lime juice, and orange bitters
---
Wild Caught Swordfish Chop
Wild caught swordfish chop with a strawberry salsa fresca, house made bourbon glaze, herb baby baked potatos, and roasted brussels sprouts
---
Chicken Pot Pie
Champagne Risotto Salmon
Pear & Honey Tart
Spiced walnut crust, honey orange cream, caramelized pears, honey chantilly cream, garnished with a candied orange peel. Homemade ice cream served on top of the pear & honey tart.
Chocolate Raspberry Old Fashioned
---
Breakfast Enchiladas
All breakfasts are better wrapped and smothered! We stuff flour tortillas with sausage, veggies, eggs & cheese and then bake those perfect rolls in green enchilada sauce. Two are served smothered in homemade queso and topped with fresh pico de gallo & avocado.
Cajun Biscuits & Gravy
Homemade cheddar & chive biscuits are smothered in a cajun spiced gravy and topped with a sunny, runny egg! Think breakfast veggie jamabalaya. Put some South in your mouth!
Crunchberry French Toast
Our hometown hero, the Captain, is making breakfast better than ever! We soak our homemade brioche in Captain Crunch cereal milk and perfectly toast both sides. Then we'll drizzle that goodness with mixed berry compote & vanilla anglaise, all accented with a little Crunchberry topping.
Southwest Chopped Salad
Salads should never be boring! Mixed greens topped with black beans, corn, tomatoes, sweet peppers, avocado, & southwest marinated chicken are sure to excite your palate. Oh, and that cilantro lime dressing will liven it all up as well.
Carnitas Street Tacos
Slow roasted carnitas will stuff corn tortillas and be topped with fresh pico de gallo. The flavors in this house-roasted carnitas are insane! A squeeze of fresh lime is the perfect accent to this flavorful lunch.
---
King Cake Crepes
Three crepes with cream cheese filling, pears, berries, and mint
Lousiana-Style Grits
Lousiana-Style Grits with two eggs and sausage
Sausage and Chicken Gumbo
Southern Pesto Sandwich
Tomato, mozzarella, pecan pesto, and crispy butternut squash, served on a toasted bun and your choice of a side
Fried Fish PoBoy
Pickles, tomato, hydroponic lettuce, and remoulade, served on a French roll with your choice of a side
---
Margarita Flight
A variety of four delicious house margaritas. Flavors: Lime, Mango, Peach, and Strawberry/Raspberry.
Pineapple Dole Whip
A delicious combination of whipped vodka, coconut mix, and pineapple juice
Guerita Margarita
A mix of Mezcal, tequila reposado, pineapple juice, lime juice, orange juice, agave, and a Gusano salt rim
Elote Locos
A whole cob of cooked sweet corn, topped with cheese dip, cilantro, and tajin
Cheese Flight
Big dipper flight, bean dip, cheese dip, and choriqueso
Seafood Trio
An amazing mix of three seafood tacos, (fish, shrimp, and mahi mahi), served with tomatoes, rice and bean dip
Carnitas Grilled Cheese
Carnitas Grilled Cheese served with tortilla soup
Cantina Combo
Azteca soup (tortilla) served with either 2 tacos de canasta or 1 huarache and 1 sope (meat of your choice)
ChurriCream
Our delicious fried order of churros served with ice cream and topped with whipped cream
---
Pork Chile Verde Poutine with Dan & Debbie Cheese Curds
Suggested pairing: Compensation Dark Mild
Butternut Squash Chile Verde Poutine with Pepitas
Vegan Option
Chicken and Waffles
Belgian Waffles with fried chicken tenders, served with house-made strawberry-jalapeno jam, whipped goat cheese, and hot honey. Suggested beer pairing – Heart Strings Pineapple Raspberry Sour
Chick'n & Waffles
Vegetarian Option – Belgian Waffles with Fried Chick'n cutlet, served with house-made strawberry-jalapeno jam, whipped goat cheese, and hot honey.
Crispy Buffalo Chicken Sandwich with Blue Cheese Coleslaw on a Pretzel Bun
Suggested Beer Pairing – Bohemian Premium Lager
Crispy Buffalo Chick'n Sandwich with Blue Cheese Coleslaw on a Pretzel Bun with a side of kettle chips, or your choice of an upgraded side
Vegetarian Option
Carrot Cake with Cream Cheese Frosting
Suggested Beer Pairing – Yard Sale IPA
---
Personal Breakfast Pizza
Bacon, sausage, hashbrowns, cheese with our sausage gravy as the base
Breakfast Nachos
Bacon, sausage or chorizo on a bed of american fries with black olives, onions, green peppers, tomato, jalapenos smothered in your choice of cheese sauce, hollandaise or gravy
Hand Breaded Pork Tenderloin
Hand breaded pork tenderloin with cheese and a homemade spicy bbq
Seafood Po-Boy
Lobster, shrimp, crab, pepperjack cheese, drizzled with homemade remoulade sauce
---
3 Course Dinner
Roasted pear salad with gorgonzola cheese, honey flavored pearl, arugula, maple dijon. 8 oz Prime filet with crushed mustard cream sauce, sauteed cremini, shiitake, & blue oyster mushroom medley, and broccolini. Chocolate mousse tower with oreo crumb base, milk chocolate mousse, white chocolate chantilly cream, chocolate cage, raspberry coulis
Tres Ceviche
Shrimp and scallop ceviche, salmon and citrus ceviche, and sea bass ceviche with wonton crisps
Down the Rabbit Hole
Bulleit Bourbon, St. George Spiced Pear Liquer, Earl Grey tea, simple syrup, and rosemary sprig garnish.
---
Restaurant Weak In The Knees
Italian calzone, stuffed with pepperoni, salami, red onions, black olives, and mozzarella cheese, topped with olive oil and parmesan cheese and served with a warm side of pizza sauce
---
Moroccan Meat Lover Gyro Witches
Gyro meat, moroccan seasoned chicken, moroccan seasoned ground chuck, sauteed onions, egg, cheese, fresh diced tomatoes topped with O's famous white gold sauce derived over a pita
O's Thai Chicken
Kalbi chicken, fresh diced onion, tomato, jalapeno, pineapple, shredded coleslaw topped with sweet peanut sauce
---
Sirloin and Shrimp Spectacular
Tender, juicy 8oz Sirloin (sliced) on a bed of Onion Tanglers topped with a blackened shrimp skewer and drizzled with P.F. Bernaise. Served with seasoned sauteed broccoli, challah bread and garlic mashed potatoes loaded with cheddar cheese, sour cream, bacon and green onions
Cajun Shrimp and Andouille Pasta
Blackened shrimp and andouille sausage over cremy tomato penne pasta with peppers and onions. Served with griddled challah bread from Great Harvet Bread Company
Thai Chili Shrimp Asian Salad
A bed of our Asian salad made with romaine, red and white cabbage, carrots, snow peas and sweet lime dressing, piled high with crispy corkscrew shrimp tossed in sweet thai chili sauce and topped with crispy wontons
Buffalo Chicken Nachos
Crispy, fried tortilla chips loaded with your choice of regular or spicy queso, cheddar cheese, shredded buffalo chicken, smoked blue cheese crumbles, diced tomatoes and red onions. Drizzled with garlic dill ranch, buffalo sauce and sprinked with green onions.
Smothered Southwest Chicken
Grilled chicken smothered with Southwest Ranch, cheddar cheese, poblano corn blend and black beans on a bed of spanish rice surrounded by tortilla strips, topped with sour cream and a sprinkle of cilantro
Cranberry Champagne Cocktail
Tanqueray gin, cranberry juice, lime juice, house-made vanilla nutmeg simple syrup and champagne
Z's Coquito
A sweet creamy coconut rum cocktail. Perfect for dessert
---
Flautas
Hand rolled tortillas filled with pork or chicken, deep fried, and served with lettuce, queso fresco and our house made pico. Suggested pairing – Fresh squeezed margarita
French Onion Chicken
A grilled chicken breast with gruyere cheese on Texas toast, topped with carmelized onions and a rosemary and thyme white wine gravy. Suggested pairing – French 75 cocktail
---
Cajun Elote Chicken Wings
Grilled chicken wings, cajun aioli, grilled corn, parmesan, herbs, tajin, and lime
Walking Taco Burger
Smashed burger patties, american cheese, shredduce, nacho cheese doritos, taco sauce, cilantro lime creme, pico de gaillo, on a brioche bun
Spicy Margarita
Jalapeno infused tequilla, lime juice, rich syrup, sweet and spicy rim
---
The Filet Dip
Thin sliced beef tenderloin with caramelized onions and mushrooms, crusty bread, De Burgo sauce with choice of french fries, house salad or a cup of soup du jour
The Duck Pie
Slow roasted duck with carrots, celery and onions topped with creamy mashed potatoes. Choice of house salad or a cup of soup du jour
The Crunch Berry
Confetti blondie with crunch berry ice cream, strawberry and blueberry sauce, whipped cream and topped with a cherry
---
3 Course Meal – Soup/Salad, Main Course & Dessert
House Salad, Soup of the Day, Main Course Options: Mac and Cheese or Buffalo Mac and Cheese, Light Switch Burger with choice of side, BBQ Pork Ribs with freis, cornbread and coleslaw, Corned Beef and Cabbage with mashed potatoes, and Salmon Quinoa salad with bread. Dessert: Chocolate or Carrot Cake
---
Okonomiyaki
Korean style shrimp & scallion pancake, garlic aioli, pineapple & cucumber, and kimchi (everything bagel seaweed crunch)
Goat Enchiladas
Braised goat, flour tortillas, barria demi, salsa macha, goat cheese sour cream, picled daikon radish and herb salad
"Maiz de la Vida"
Vida mezcal, el mayor blanco tequila, nixta licor de elote corn liquer, hibiscus syrup, orange bitters and lime juice
---
Gumbo Fries
Fries topped with white cheddar cheese curds and chicken gumbo gravy
Hot Water Cajun Cornbread With Honey
Crawfish Boil Burger
Smash Patty topped with white cheddar, andouille sausage, crawfish, corn, collard greens & Old Bay aioli, Served with Muffuletta pasta salad
Cocktail of Your Choice
Classic Hurricane cocktail or Classic Sazerac Cocktail
---
Marinated Chicken Breast
Marinated chicken breast with melted swiss cheese, bacon, avocado, tomatoes, lettuce and garlic aoli. Served on a toasted wheat berry bread with your choice of cottage cheese or coleslaw.
Winter Paradise
Effen cucumber vodka, pineapple juice, ginger, and strawberry puree
Drunken Snow-man
Bailey's, kahlua, hot cocoa, and whipped cream
---
We encourage the community to support local restaurants and establishments, not just during Restaurant Week, but more importantly all year-round. Check out the entire list of Economic Alliance local member restaurants.