 Event Detail
Leadership for Five Seasons 40th Anniversary Celebration
Thursday, June 01, 2023
5:00 PM - 7:30 PM
DoubleTree by Hilton, Exhibit Hall A (Main floor)
350 1st Avenue NE
Cedar Rapids, IA 52401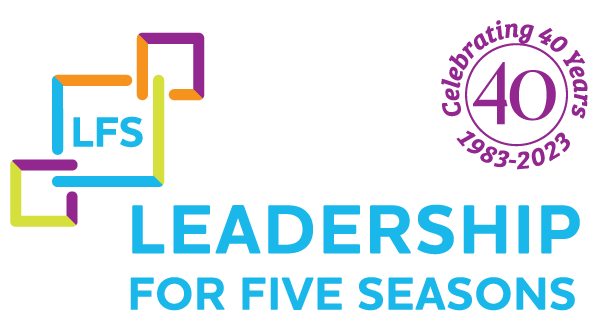 To honor and celebrate this year's incredible milestone, we're throwing a big party! All Adult Leadership for Five Seasons alumni are invited to attend this special 40th anniversary event. Since the program's start in 1983, nearly 1400 business professionals have passed through LFS, gaining lifelong skills that have benefitted them personally and professionally.
Join classmates, spouses, and alumni from over the years on June 1st for:
Social Hour: 5:00 p.m.-6:00 p.m.
Dinner program: 6:00 p.m.-7:30 p.m.
Registration will close on May 25
The program will include fun, food, and fond memories in addition to remarks from friends of LFS including program founder and Class of 1983 alum, Lee Clancey. Registration is $60/person and a share of the proceeds from the event will go back to support the LFS Youth Program. The event will include a cash bar and alumni who have paid their 2023 dues will receive a free drink ticket! Have a fun story, memory, or impact statement you'd like to share about the program? Share it on our registration page or email Rebecca Sullens.

Additional Details:
Attire: Dress for this ev

ent is business/business casual.

Check-in: Attendees should check in at the event to receive their table assignment, nametag, and free drink ticket (for alumni who have paid their 2023 dues)
Guest Seating Assignments: Attendees will be assigned to tables of 10 according to LFS class year. Seats at these tables will not be assigned. Couples with different class years who wish to sit together should put down the class year they'd like to sit with on their registration or contact Rebecca Sullens.

Contact Rebecca if your class is interested in purchasing a table of 10. Table purchases must include list of attendee names.

Post Event Fun:

Continue the fun and support local establishments by going out with your class after the program! We'll be sharing a list of partner businesses that are offering sp

ecials for LFS alumni closer to the event!
**Due to the timing and magnitude of the event, the 40th Anniversary Celebration will take the place of the Alumni Spring Luncheon this year.
If you haven't paid your 2023 dues yet, you can do so HERE.
---