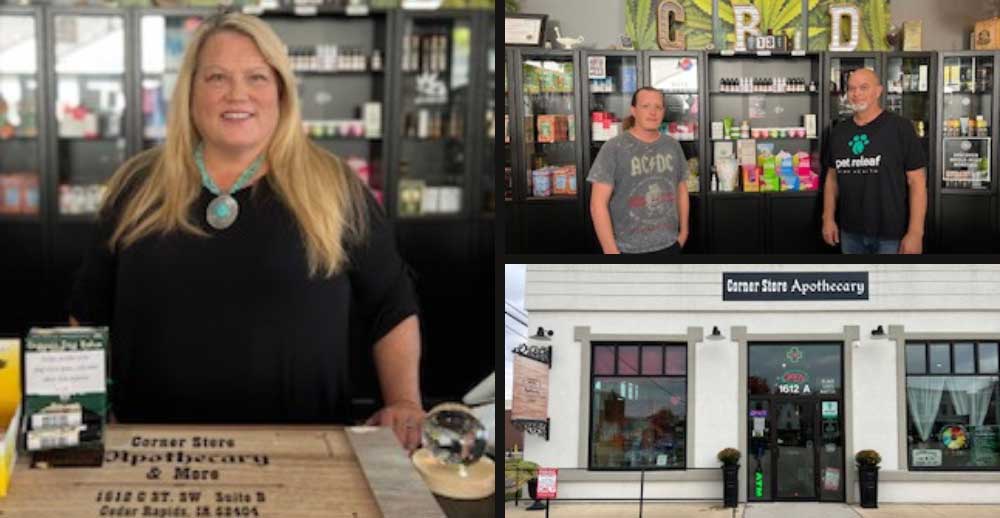 Corner Store Apothecary
Kimberly Loeffler opened the Corner Store Apothecary in Cedar Rapids' Czech Village in 2017 after discovering the healing power of CBD or cannabidiol. Loeffler's husband uses CBD oil to control his epilepsy, and together the couple has grown their business into one of the top CBD oil distributors in the Midwest.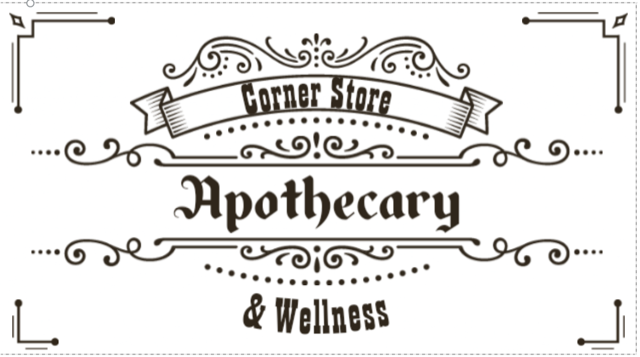 "I've come to see my husband's epilepsy as a blessing because without that experience, we would not be where we are today, helping people all over the Midwest find natural remedies for themselves and their families," says Kimberly Loeffler, who is a retired nurse and cannabis activist. "For us, it's not about making millions; it's about helping millions."
The Loefflers run their business with the help of their son, Jordan, who has become a specialist in CBD use along with his parents and manages retail sales. The Loefflers have long-term plans to expand their business to include massage therapy, naturopathy classes, and alternative therapies. They say they are grateful to the Cedar Rapids Metro Economic Alliance for providing a network of local professionals to help them reach this goal.
Many customers come to the Corner Store Apothecary because they are curious about CBD oils and natural remedies. Kimberly Loeffler spends much of her day educating people about the benefits of natural remedies and helping them to find suitable therapies for whatever it is that ails them, whether it be the side effects of chemotherapy, autism, Parkinson's Disease, or chronic pain. It's work that she is passionate about.
"I am thankful I get to do what I love every day," says Loeffler. "I'm grateful that people trust us to help them on their wellness journey."
Corner Store Apothecary
1612 C Street SW Ste. B
Cedar Rapids, IA 52404
Ph: (319) 364-2764
Learn more about Corner Store Apothecary at www.cornerstoreapothecary.com.
---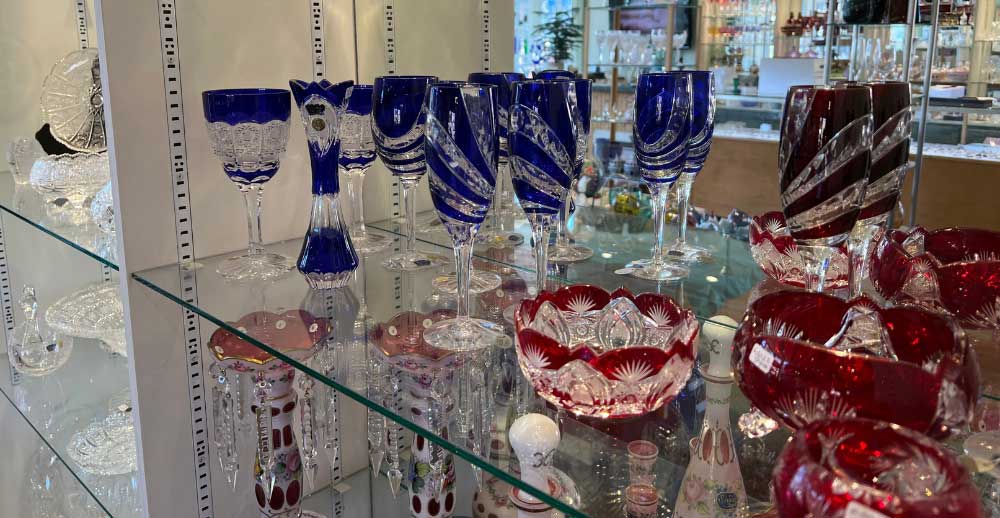 Czech Cottage
A bounty of rare and beautiful treasures awaits visitors at the Czech Cottage in Cedar Rapids. Located in one of the Czech Village's oldest buildings, which housed a series of pharmacies for more than 70 years, the shop welcomes customers who enjoy hunting for unique crystal pieces, old-fashioned Christmas ornaments, and jewelry.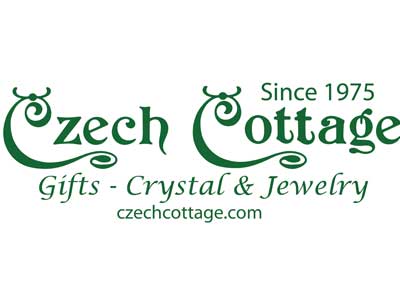 Czech Cottage owner Bob Schaffer opened the shop with his parents in 1975 when local leaders launched a larger project to revitalize Cedar Rapids's historic Czech immigrant neighborhood. Looking back, Schaffer says he is proud of the energy he and his parents poured into the business and the Czech Village retail district, which today is considered one of Cedar Rapids' top tourist attractions.
"Czech Village today is pretty much what my parents and I dreamed of when we opened our doors back in the seventies," says Schaffer. "It's a great feeling to know that we helped to build not only a thriving business but a thriving business district."
One thing that makes the Czech Cottage truly special is that Schaffer has been able to collect and store vintage cut crystal vases, serving bowls and glasses. This means shoppers are rarely let down when they drop in to find a special gift or new item for their collections. He also has vintage handmade glass Christmas ornaments from the Czech Republic that are famous for their detail and vibrant colors. Schaffer also sells jewelry made with garnets and moldavite found only in the Czech Republic, as well as folk art and ceramic pieces.
Schaffer is grateful to the Cedar Rapids Metro Economic Alliance for its dedication to building a robust local economy, which has helped solidify the Czech Village's success. Schaffer is proud to be a member of a community of business owners passionate about creating memorable experiences for visitors, many of whom stroll through the Village after a tour of the National Czech & Slovak Museum & Library.
"I feel like we have a good collaboration between the local businesses and the museum," says Schaffer. "It provides visitors with a cultural and historical glimpse of Cedar Rapids and connects past and future generations."
Czech Cottage
100 16th Ave. SW
Cedar Rapids, IA 52404
Ph: (319) 361-4938
Learn more about Czech Cottage at www.czechcottage.com.
---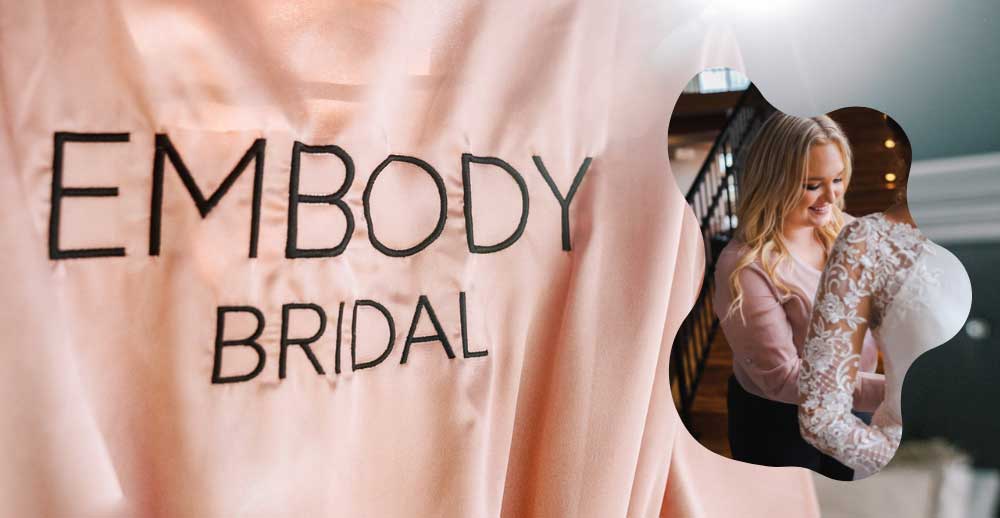 Embody Bridal
The date is set, the planning has begun, and you'll soon walk down the aisle and say "yes" to all that married life brings. But what will you wear? If, like most brides-to-be, the hunt for the perfect dress makes you feel overwhelmed, relax. Erynn DeRycke of Embody Bridal can help.

DeRycke creates an exceptional dress-shopping experience for every client who comes through her door and often hosts mothers-of-the-bride and bridesmaids who also want to be part of the excitement of finding the dress. "I believe that every bride, regardless of size, age, or race, deserves an experience that makes her feel special," says DeRycke. "Every person deserves to be treated with respect."
At Embody Bridal, soon-to-be brides schedule a personalized shopping session online and then, on the day of their appointment, receive all of DeRycke's attention and expertise in choosing a dress. "I love receiving feedback from brides who thank me for making their wedding day a dream come true," says DeRycke. "It fills me with the most insane amount of joy. I love helping women see their beauty and feel confident in their bodies."
DeRycke is a relatively new business owner, so she is excited to see what the future will bring. She is still figuring out how to manage a business that can be somewhat seasonal, with slow and busy months, and to see how rising prices will impact her sales. But she is grateful for the opportunity to join the downtown Cedar Rapids business community, and to build a business from the ground up in an industry, bridal fashion, that she adores.
Embody Bridal's website is full of photos of women in dresses that DeRycke picked out for them, and the joy is palpable. "I am passionate about making sure all people feel loved and accepted for who they are, not based on their looks," says DeRycke. "The success I have experienced with my business so far makes me feel confident about the future. I'm so fortunate that I get to do this every day."
Embody Bridal
323 3rd Street, Ste. 100
Cedar Rapids, IA 52401
Ph: (319) 536-1816
Learn more about Embody Bridal at www.embodybridal.com.
---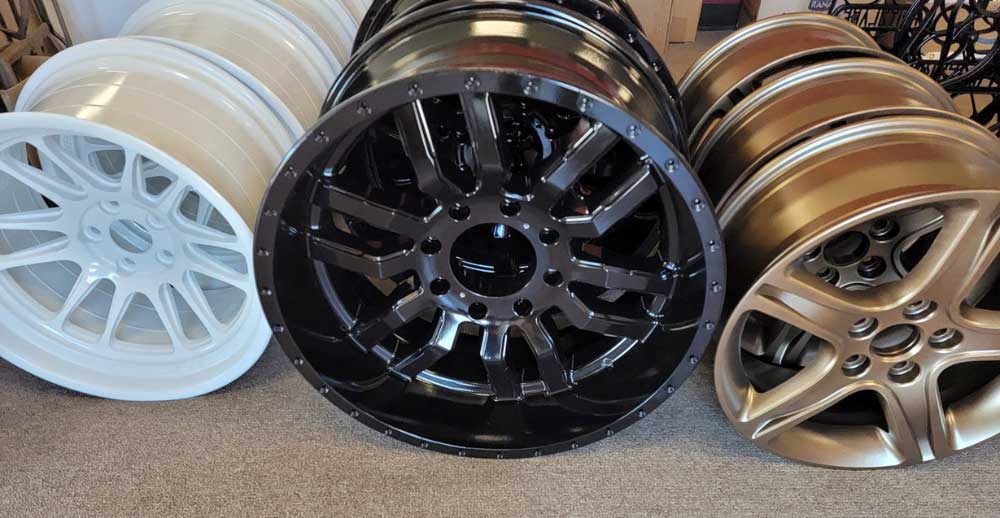 Tammi's Custom Coating
Custom powder coating and Cerakote® can bring new life to antiques, car rims and guns and even revive metal garden furniture you might have thought you'd have to take to the dump.
Tammi Janey, owner of Tammi's Custom Coating, and her team of professional powder coaters have been proudly serving Cedar Rapids and surrounding communities since 2016, eager to take on even the most challenging coating projects.
Have a vintage car that needs a spare tire rim repainted? An antique milk canister you'd love to use as a decoration in your home? Tammi and her team, including shop foreman Jeremy Wilson, can probably help you. Tammi's Custom Coating is a certified Cerakote® ceramic coating technology applicator, which ensures lasting durability and chemical resistance.
"I love seeing the total transformations of items that our customers bring in," says Tammi, whose parents also ran a powder coating business in Cedar Rapids. "Many times, these items have some connection with family history or sentimental value, and so they are often really surprised and happy to see how the final product turns out."
This holiday season, Tammi's Custom Coating is offering drink tumblers and metal signs that customers can personalize with the name of a family member or a favorite motto. The team can also help customers surprise a loved one with a new custom coating for a bicycle, motorcycle part, or antique just to name a few. So get creative this holiday season with Tammi and her crew! Click here to view some of their recent creations.
Tammi's Custom Coating
5524 Center Point Rd. NE
Cedar Rapids, IA 52402
(319) 294-i5416
Learn more about Tammi's Custom Coating at www.tammiscustomcoating.com.
---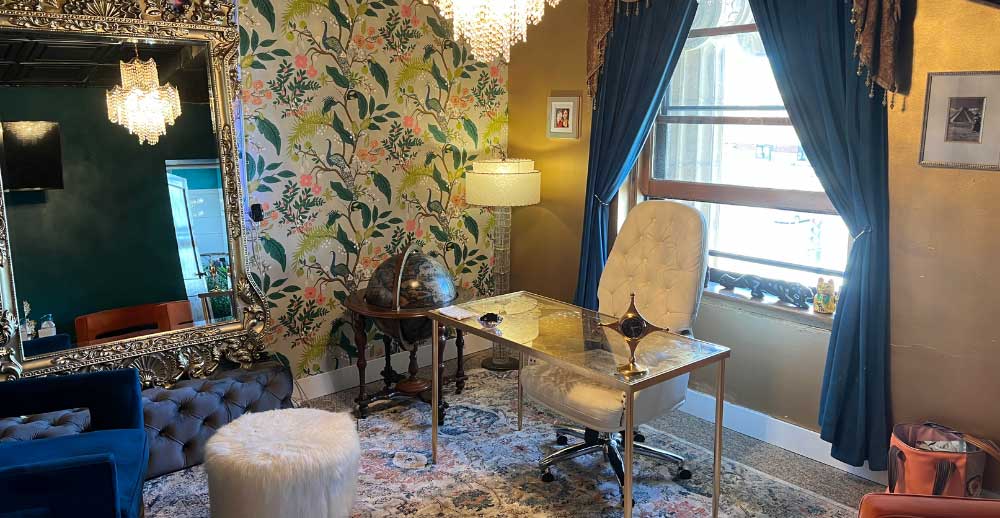 The Heart Agency
Cat Cantrill ran a successful dance studio in downtown Cedar Rapids for seven years. Then, in 2020, when the Covid-19 pandemic struck, Cantrill was forced to shutter her business and find a new calling. After about two years of research and personal reflection, Cantrill founded Iowa's only in-state dating service, The Heart Agency.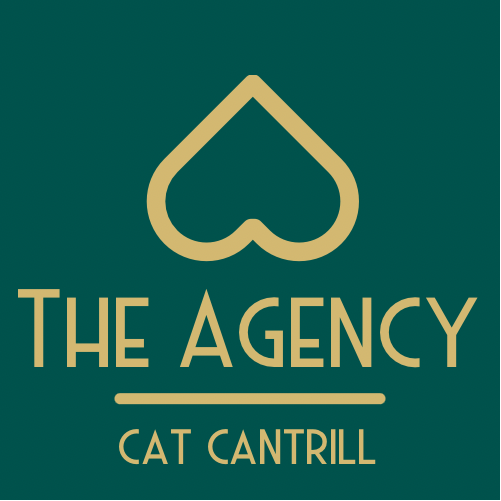 The Heart Agency is a matchmaking service that specializes in helping single professionals find their forever match. Services include matchmaking, dating coaching, workshops, mixers, and speed dating events. In addition, Cantrill will rewrite and optimize your online dating profile, so you stand out and find the right matches.
The Heart Agency is also the home of the Game for Love, a live dating game show and the first of its kind in Iowa. The last show successfully paired five couples in front of a crowd of more than 250 people at Theatre Cedar Rapids (TCR). Even more exciting, Cantrill's boyfriend proposed to her, and she accepted. You can't get much more romantic than that!
Cantrill says she's grateful to the Cedar Rapids Metro Economic Alliance for "all of its support and love" and for business partnerships that have come her way thanks to her membership. She's also thankful that the greater Cedar Rapids community has embraced her business and its purpose. Cantrill specializes in helping singles identify mental blocks that prevent them from finding love and teaches them that finding compatibility is always better than finding "chemistry."
"I am proud to be the only Iowa matchmaker whose home office is in Iowa," says Cantrill, who has initiated more than 40 first dates and six long-term relationships. "It's great to be in the business of love!"
Want to learn more? The Heart Agency offers a podcast called Dear Matchmaker, ranked among the top 10% of podcasts around the globe, and a free dating profile audit. You never know: love could be right around the corner.
The Heart Agency
1203 3rd Street SE, Ste. 1
Cedar Rapids, IA 52401
Ph: (319) 251-3479
Learn more about The Heart Agency at https://theheartagency.com/a-special-gift-from-cat.
---