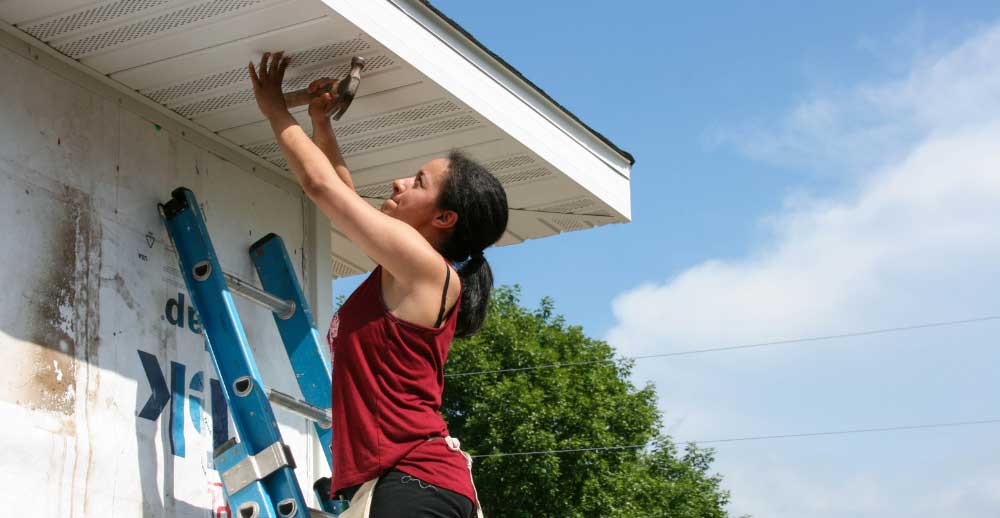 Cedar Valley Habitat For Humanity
Cedar Valley Habitat for Humanity (CVHFH) is tackling the housing shortage in Linn and Benton counties by helping qualified families build their forever homes, providing existing homeowners with the materials they need to keep their homes in good repair, and training the next generation of home building experts.

For decades, CVHFH has partnered with local families to build safe and affordable homes. Families who partner with the nonprofit receive homeowner education courses, and community members can take construction courses, learning construction skills like demolition, refinishing, and handling power tools, for those interested in do-it-yourself projects.
And this year, for the first time, CVHFH taught seven high school students from local community school districts how to build a house from the ground up as part of the Students Building Community program, which aims to fill the need for new talent in the building industry. The program is offered in partnership with the Greater Cedar Rapids Housing & Building Association and more than 15 local companies.
"We are grateful to be able to continue providing services to our community and for the continued volunteer and donor support that makes our mission possible," says CVHFH development director Leslie Neugebauer.
Neugebauer says that although the cost of housing materials has increased, CVHFH has continued serving local families thanks to the support of volunteers, donors, and local businesses, many of which are also members of the Cedar Rapids Metro Economic Alliance. The nonprofit's website offers a plethora of information and news, including ways to get involved and help neighbors in need. CVHFH also runs Habitat ReStore, a building materials and homeware shop that takes donations from the community and resells them at discount prices.
Cedar Valley Habitat For Humanity
350 6th Ave. SE
Cedar Rapids, IA 52401
Ph: (319) 294-1500
Learn more about Cedar Valley Habitat For Humanity at www.cvhabitat.org.
---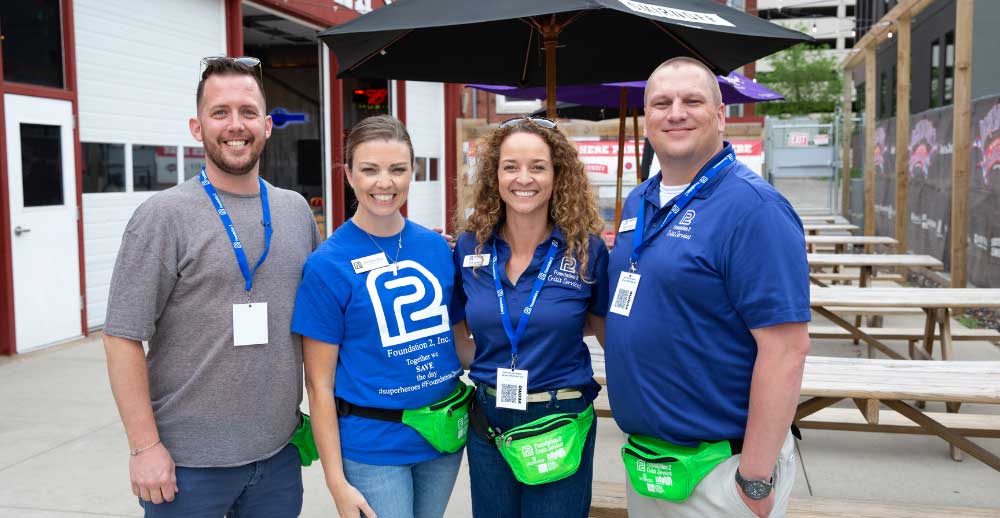 Foundation 2
Foundation 2 Crisis Services of Cedar Rapids provides suicide prevention and counseling services to those in need and is one of two Iowa human service agencies to manage the Suicide and Crisis Lifeline, formally branded as the National Suicide Prevention Lifeline.

Chief Development Officer Katie Curtis says the nonprofit has seen increased demand for its services in recent years. Foundation 2 serves roughly 80,000 crisis contacts during the year and offers specific counseling and assistance to foster youth. It also works with law enforcement officials to de-escalate situations involving people with mental health issues.
"We are committed to positive youth development, suicide prevention, and building stronger and healthier families and communities," says Curtis.
Foundation 2 Crisis Services is raising money to create a permanent headquarters in downtown Cedar Rapids. It will participate in Giving Tuesday on November 29 and is partnering with the Junior League of Cedar Rapids to "stuff" a Van Meter truck with basic needs for young adults who have aged out of the foster system. The Foundation 2 Facebook page has more information about the event and how to get involved.
"We live in an incredibly generous community; so many people are willing to make donations and get involved," says Curtis. "Financial support and strategic partnerships allow us to best serve those who need us most when they need us most."
The Cedar Rapids Metro Economic Alliance is an excellent resource for Foundation 2 Crisis Services, says Curtis. The IMPACTCR group allows the organization to connect with young professionals who want to donate their time and energy to community initiatives. Training sessions also benefit the nonprofit and its management team.
"We appreciate all that the Cedar Rapids Metro Economic Alliance does to build a more vibrant community, one we are proud to be a part of," says Curtis.
Foundation 2
1714 Johnson Ave. NW
Cedar Rapids, IA 52405
Ph: (319) 362-1170
Learn more about Foundation 2 at www.foundation2.org.
---
Horizons
Horizons of Cedar Rapids is a nonprofit that delivers hot meals to the homes of seniors who need them, transportation to those without a car or a driver's license, and low or no-cost housing and financial counseling to those looking to build stability.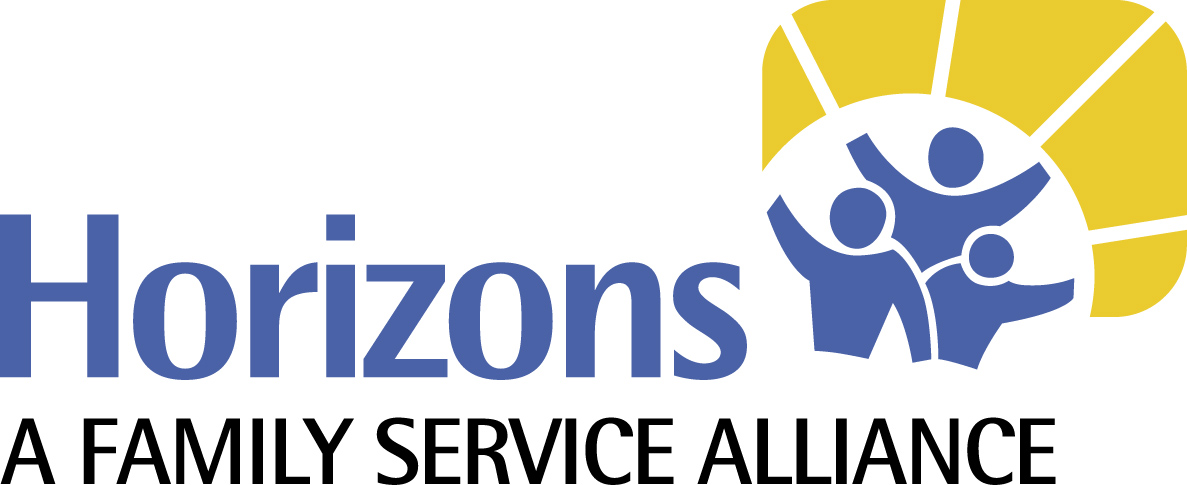 Horizons runs Meals on Wheels, a service that provides a link to the outside world for homebound seniors. When volunteers arrive at the front door with a hot meal in hand and a smile on their face, seniors feel connected and cared for.
Its Neighborhood Transportation Service offers low-cost transportation to individuals who can't otherwise get to work, training, or school and are trying to build a self-sufficient life for themselves and their families.
Additionally, the nonprofit's Financial Wellness Center offers many services to help community members improve their financial literacy. For example, there is counseling for first-time homebuyers, students trying to pay off college debt, and individuals struggling with credit card debt.
At this time, Horizons is planning for future economic insecurities due to inflation. "It can be challenging to continue providing services amid changing economic conditions, but we are already thinking about how we can best navigate the next few months," says Brian Siguenza, a communications specialist at Horizons. "Community support of our programs has always been strong, so we feel confident we will find the best path forward."
Interested in getting involved? Donors can give online or purchase supplies for the Meals on Wheels program. Current volunteer opportunities include food delivery drivers and assistance with the December Joy Drive, which will provide support to at-risk seniors.
Horizons
819 5th Street SE
PO Box 667
Cedar Rapids, IA 52406
Ph: (319) 294-1500
Learn more about Horizons at www.horizonsfamily.org.
---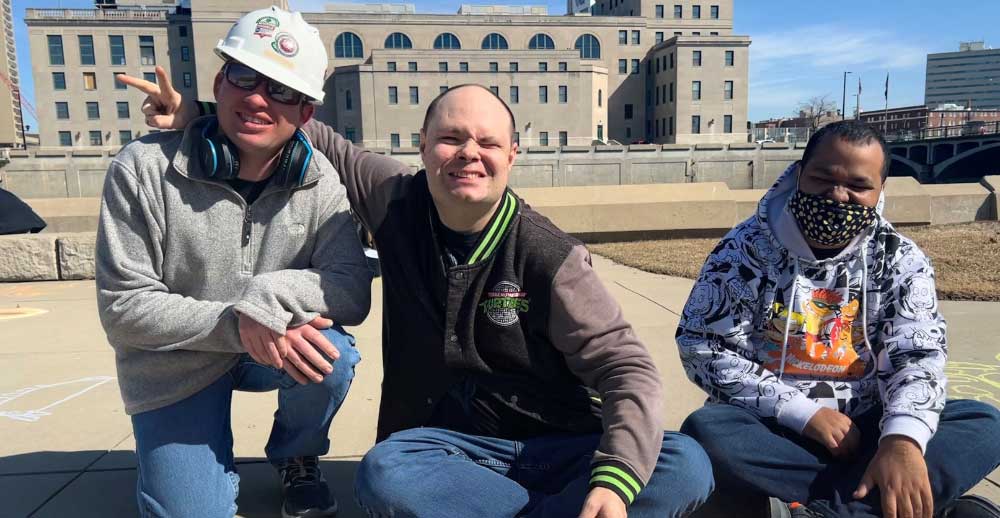 The Arc of East Central Iowa
Since 1953, the Arc of East Central Iowa has offered programs and services to individuals with disabilities so that they can live a life of dignity and full engagement in their community, including education and work opportunities.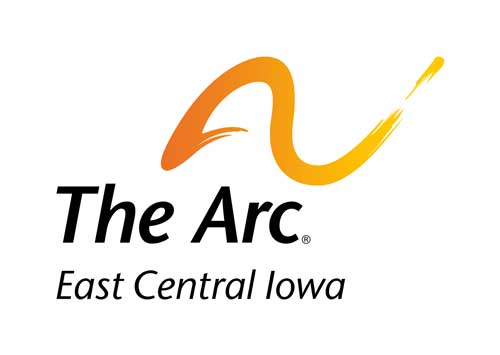 "The Arc exists because people with disabilities often need services their entire lifetime, and they deserve to be treated with respect," says Theresa Lewis, executive director of the non-profit. "Our advocacy focuses on inclusion and access, which benefits our participants and the communities they serve."
The Arc has succeeded in improving access to education, healthcare and competitive employment for hundreds of disabled youth and adults and recently started working with local officials to reduce the number of people with disabilities in the criminal justice system. In addition, the nonprofit is promoting a new resource guide to help families plan for the lifetime care of their disabled family member and is raising funds to build the first all-inclusive playground in downtown Cedar Rapids.
The Arc is recruiting new community partners and requesting donations as part of its annual appeal, which runs through the end of the year. Although the nonprofit receives partial reimbursement from Medicaid for many of its services, it depends on financial and other donations to support its long-term success and the achievements of its many participants.
"We are incredibly grateful for the community's support and interest in our work," says Lewis. "We have more than sixty business partners who employ our participants, and we partner with many local nonprofits to advocate for individuals with disabilities."
The Arc is seeking individuals who would like to be employed part- or full-time as Direct Service Providers (DSP). These employees work with participants to improve communication, socialization, and self-care. They also provide respite for family members who are caregivers.
"DSP employees are the backbone of our organization," says Lewis. "We'd love to see more people get involved."
The Arc of East Central Iowa
680 2nd Street SE
Cedar Rapids, IA 52401
Ph: (319) 365-9938
Learn more about The Arc of East Central Iowa at www.arceci.org.
---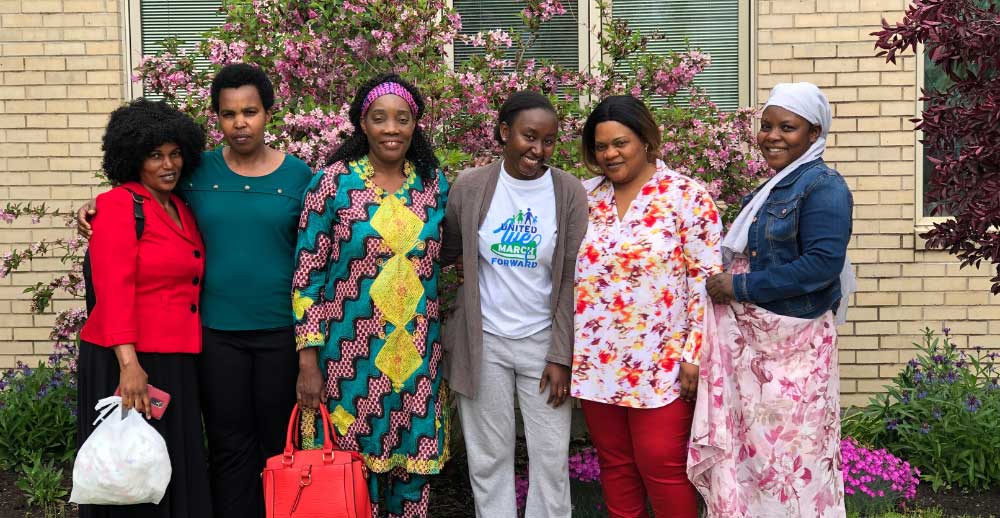 United We March Forward
Mugisha Gloire and his family came to Cedar Rapids more than two decades ago, desperate to escape the violent civil war that had consumed their native land of the Democratic Republic of the Congo. Gloire was 10 years old but already familiar with terror and loss.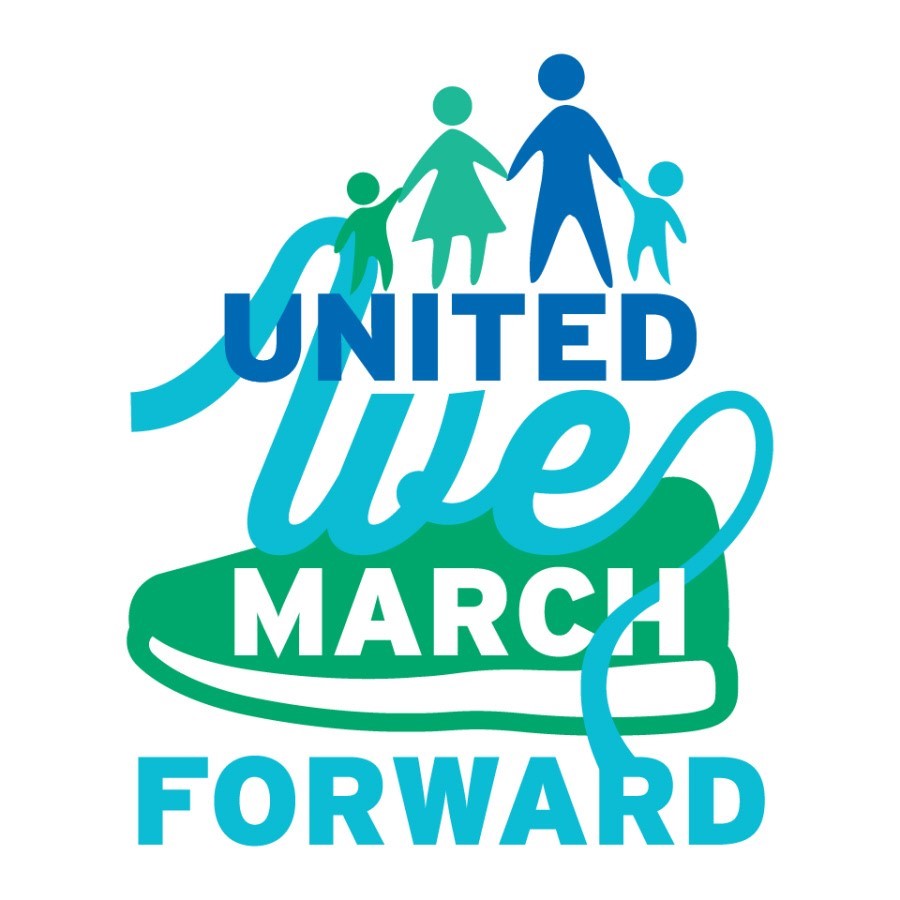 As he matured, he realized he wanted to provide the same aid to immigrants he and his family received when they came to Iowa. Gloire obtained a nursing license, but instead of going on to become a doctor, as he had planned, he opened a nonprofit organization called United We March Forward.
Since 2018, United We March Forward has worked with immigrants to provide them with education, empowerment and encouragement – the "three E's," as Gloire refers to them. The organization focuses on filling gaps in human services and building relationships that enable immigrants to become self-sufficient in their new environment. The goal is to provide families with all they need to thrive, says Gloire.
"Many of the families we serve are people I know outside of my nonprofit work," says Gloire. "This builds trust and a strong bond. It's humbling to serve others in the same situation my family and I were in many years ago. I want to show my daughters that they can also aspire to serve and be part of the solution."
United We March Forward serves more than 620 Cedar Rapids households, including 320 through its food pantry, and provides workshops in English and financial literacy and driver's education. There is also an after-school summer program for teenagers. These services offer recently-arrived immigrants a solid base for rebuilding their lives and providing their children with a bright future in a new country, says Gloire.
Financial support from donors is key to providing these services. Gloire encourages those interested in volunteering their time or making monetary donations to visit the nonprofit's website. He is grateful to The Gazette newspaper for sponsoring United We March's membership to the Cedar Rapids Metro Economic Alliance.
When speaking to potential donors, Gloire often cites the following Bible verse: "When much is given, much is required." He says he is glad he can give back to the community that gave him food and shelter when he needed it most.
United We March Forward
214 13th Street SE
Cedar Rapids, IA 52403
Ph: (319) 210-8573
Learn more about United We March Forward at www.unitedwemarchforward.org.
---