 Sometimes, you really don't know what you've got until you're gone. And when the right opportunity pops up, you come back! Christina Jones was living in Colorado Springs when outreach from Talent Hub popped up on her LinkedIn page. She was happy where she lived, but was intrigued by the potential opportunity to come back home and be closer to family.
"At the time, I wasn't looking to leave Colorado. I considered it home and I was really happy at my firm. But being from Cedar Rapids, I know there's historically been an ongoing concern with college graduates leaving the state and a challenge in getting professionals to come back. Every time I came home, I couldn't understand it. It's beautiful here and the cost of living is so low. But my line of work is very niche, and at the time, I didn't see an opportunity for the type of long-term role I wanted here in Iowa."
Her niche? Jones is a parking and mobility planner and, while she was based in Colorado, has been a part of successful projects throughout the country as a consultant to cities, universities, hospitals, and private developers. Her connection through Talent Hub, a job portal sponsored by the Cedar Rapids Metro Economic Alliance and ICAD (Iowa City Area Development Group), introduced her to an opportunity at the City of Iowa City. City leaders had just approved a new position to be created within Transportation services, a Transportation Management Analyst, and were looking for a candidate that could analyze, interpret, and convey complex datasets. Right up her alley.
"I look at all of the data for parking and transit and then communicate it in a digestible, user-friendly format. This information is then used to inform strategic planning by transportation services management and city leaders to inform policy and operational decision. Decisions such as where we should be adding transit stops. Or, if parking is full at one location, how can we encourage people to use vacant spaces at another? My department not only supports the community vitality and economic aspects of the city but, also supports our focus on the City's sustainability efforts. For example, perhaps instead of building new parking garages, how can we more efficiently use transportation resources we already have?"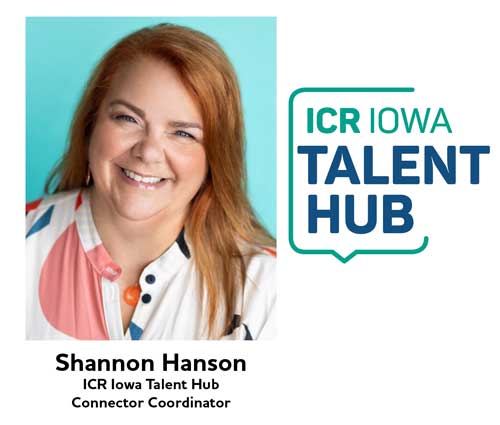 The opportunity came from connecting with ICR's Talent Hub Connector Coordinator, Shannon Hanson. "Typically, a candidate is looking to move to ICR Iowa and uploads their resume to the site. I reach out to find out what they're looking for. What was cool about Christina's situation was I knew her when she lived here before. So some of what I typically asked in our short interview was already answered. Then I reached out to contacts I had in Iowa City and asked if they had anything available that would fit her specific area of expertise."
And it all came together. "When I responded to Shannon, I said I wasn't really interested in going back(to Iowa) to just a different role in the private sector. I really wanted to keep my focus on transportation planning because it's something that I'm passionate about. I didn't have high hopes that she would find something, but a couple of months later Shannon came back with a job description they had pointed her toward. I was blown away and very happy about finding out this position was available."
Not only was Christina happy to learn about the opportunity, but the City was happy to receive her resume. Before getting into consulting, Christina grew up working in parking facilities managed by her family right here in Cedar Rapids. A third-generation parking professional, Christina worked in frontline operations learning the family business at Jones Parking in Downtown Cedar Rapids. Not only did the Talent Hub's recruit bring back with her wide-ranging national experience and industry recognition, but she had a firsthand understanding of the Corridor's transportation culture.
In addition to finding a dream job in her home state, Jones says she was surprised about how much the area has changed and she's excited to see where she lands.
"There are so many new housing developments, especially on the west side. They're beautiful! Plus, there are so many new events that weren't going on before I moved. Like the Market After Dark, I'm really looking forward to checking that out, and apparently Mt. Trashmore is a recreational trail now? Kinnick, my terrier mix dog, is going to love having a mountain he can actually summit! It seems like there's always something going on. There's this myth that there's not enough to do here, but if that's what you think, then you're not even trying. I think people take a lot of the things to do around here for granted."
Jones is determined not to take this opportunity to explore new recreational and entertainment options in the Corridor for granted. "When I moved to Denver, I really only knew one person, and I've always been pretty shy, so to help meet new people I challenged myself to try at least one new thing every month. Now, I've brought that goal back with me because I want to continue to discover new things, meet new people, and to rediscover what ICR Iowa offers. Everyone knows there's great hiking in Colorado, but there's a lot of great trails in Iowa as well." She's ready to strap on her hiking boots but while she waits for trails to dry out, Jones plans to attend several of the area's cultural and sporting events with live music at McGrath Amphitheatre and the Kernel's opening day at the top of her list.
Jones appreciates how much the community came together to help their neighbors recover from our historic flood and the derecho. "The sense of community here is vastly different than anywhere else I've been. I have worked with communities all over the country, I lived in South Carolina before I moved to Colorado and you see things like the derecho and you see the way everyone pulls together to support each other here. You just don't see that anywhere else. The Corridor is a very special place."
To learn more about the Talent Hub, reach out to Laura Seyfer, Workforce Specialist at lseyfer@cedarrapids.org and visit the Talent Hub section on our website https://www.cedarrapids.org/workforce/talent-hub/
---