 Connecting the pieces to help solve workforce problems in our community is top of mind at the Cedar Rapids Metro Economic Alliance. Seeing our region vibrant, growing, and attracting new talent is the key to success for not only our region but local businesses as well. One way to bring new talent into this thriving community is through internships, which offer young professionals the opportunity to gain hands-on experience in their areas of interest. With thousands of interns flocking to the Cedar Rapids metro this summer, businesses ask us, "How can we connect these interns to build a sense of community and have them explore what this region has to offer?" Simple. Ignite ICR.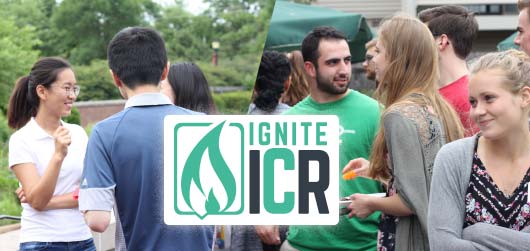 Ignite ICR is a program hosted by the Economic Alliance and Iowa City Area Development Group for college students and interns working in the Iowa City-Cedar Rapids (ICR) region. The summer event series gives students the opportunity to meet and connect, explore the area's culture and lifestyle, and imagine what a future for them may look like long-term in ICR. The 2022 summer program kicked off on June 9 at NewBo City Market in Cedar Rapids, with an overview of the ICR region and a discussion led by Nicole Mead from BerganKDV on the ever-changing hybrid work environment. The next event was held on June 23 at Big Grove Brewery in Iowa City, where they discussed industry sectors and how to have a polished 'digital resume' ready for employer eyes in the social media space. A final progressive dinner will be held on July 14 in Cedar Rapids, where the young professionals will have one more opportunity to network together and enjoy the tastes and culture Cedar Rapids has to offer. This is the first year Ignite ICR has been back in person after a several-year hiatus following the height of the global pandemic. The current group has 290 college interns from 30 different businesses and organizations in the ICR region.
The Economic Alliance not only supports programs like Ignite ICR, encouraging young professional networking and development, but has also welcomed interns onto its summer staff since 2012. Two college interns and one high school intern have been regularly selected to join and assist the Economic Alliance events, communications, research and data, and economic development teams. Upon their start date, they are immediately immersed into the culture and work of the team, helping bring to life large projects such as the Cedar Rapids Downtown Farmers Market, Market After Dark, Ignite ICR, and storytelling through interviewing and interacting with members.
Ayam Shrestha, the communications and data intern from Coe College shares, "It has definitely been an extraordinary learning experience thus far! Every day, I get to learn new things, and interact with new people, which makes it exciting to get up and go in the morning. Have there been times I feel lost? – YES! But there is always someone to help me through my quarries as I learn, that is what it's all about." Shrestha continued, "I have certainly seen a lot of personal and professional growth in the past couple of weeks, and I'm excited for where this experience will take me."
Madeline Ward, the programs and events intern from the University of Iowa, said, "I have already been so involved in bringing community events to life! Specifically helping with a lot of the vendor communications and paperwork with the Cedar Rapids Downtown Farmers Market. I am so glad I was able to jump right in and help the team with anything they needed. I can't wait for the rest of the summer to help see the rest of the market season flourish and meet so many more people!" The team also welcomed Xavier High School intern, Katie Hurkett, who is helping support the programs and events team as well. These three interns are an integral part of helping work on impactful projects, all while learning about the community, culture and opportunities they could potentially pursue in the ICR area.
While the Economic Alliance works to lead by example with its own interns, there are many other businesses that see the immense benefits of having its own internship program. Tim Faughn, VP of Engineering at Skyworks in Cedar Rapids, understands the importance of attracting solid, committed young professionals by offering internship opportunities that make a difference. "We look for the best and brightest candidates we can find, no matter where they are from. Many of our interns have never been to Iowa before and the Ignite ICR program is a great opportunity to help them feel connected to the community and with others in similar situations." Faughn added, "We want to make sure they have a good understanding not just of who Skyworks is as a company, but what benefits and opportunities will exist in their personal lives in the Cedar Rapids community."
With the realities of the workforce in a constant state of shift, the search for retaining and attracting talent stays top-of-mind. As opportunities for young professionals continue to grow across the nation, it's never been more important to show off all the potential the ICR region has to offer. Providing hands-on internship opportunities and programs to young professionals is crucial to attracting and maintaining a strong local workforce – a place where people want to GROW and BE at an early age and as they look towards building a bright future.
To learn more about the local workforce and discover workforce solutions, visit https://icriowa.org/companies/workforce/#1550781117688-0b296f4b-fdb7
---