 Join us for the 2024 Regional Legislative Launch!
November 17, 2023 | Public Policy
Join us on the evening of December 6th at Cedar Ridge in Swisher as the Cedar Rapids Metro Economic Alliance once again joins forces with Greater Iowa City, Inc. to unveil our region's state and federal priorities for 2024. Register here!
The Regional Legislative Launch, sponsored by ADM and GreenState Credit Union, comes after months of meetings and discussions with our members, stakeholders, and partners from throughout the region.
This is the 6th year the Economic Alliance and Greater Iowa City have joined forces to advocate with one voice to state and federal policymakers. One voice from 7 counties gives us more strength in our advocacy because in public policy advocacy, there's power in numbers.
During the event, following a short program at 5:30 p.m., you will have the opportunity to network with state and federal policymakers and staff. Drinks, including our signature "Bipartisan Bourbon & Berry" drink created by Cedar Ridge Winery & Distillery, and hors d'oeuvres, will be provided. The Launch is open to members from both organizations and invited guests. It is a free event, but registration is requested.
Regional Legislative Launch is sponsored by ADM & GreenState Credit Union.
Date: December 6, 2023
Time: 5:00 p.m. to 7:00 p.m.
Location: Cedar Ridge Winery & Distillery (1441 Marak Road NW | Swisher)
Iowa Chamber Alliance Goes to D.C.
The Iowa Chamber Alliance (ICA), an advocacy coalition of the largest Chambers and economic development groups in the state, ventured to Washington, D.C. last month for the first time as a group to advocate for business-friendly federal policy. Doug Neumann, Executive Director, and Barbra Solberg, Public Policy Strategist, represented the Economic Alliance during the trip, advocating for regional priorities.
During this three-day trip, ICA members went to Capitol Hill to meet with Senators Grassley and Ernst and staff members from the Iowa House delegation to discuss workforce solutions around Visa reform and local community infrastructure projects. There was also a push for our delegation to continue leading on working across the aisle to find lasting solutions.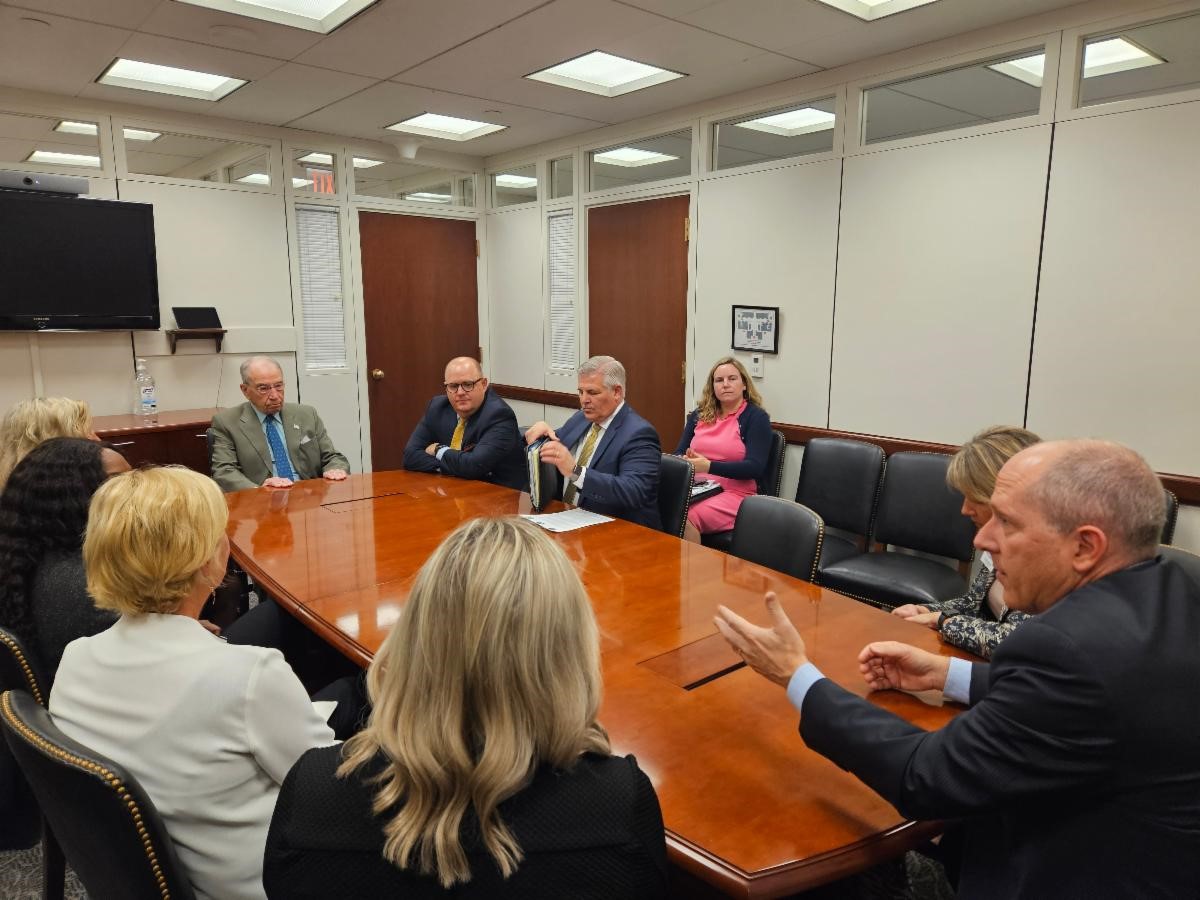 ICA also arranged for meetings with industry professionals to discuss small business issues such as from lending and entrepreneurship support and how the upcoming Farm Bill affects both rural and urban Iowa. The group capped off the days of meeting by hosting a "Taste of Iowa" reception sponsored by the State Society of Iowa and the University of Iowa. Each community had a table to highlight gems for their part of the state. Iowa City and Cedar Rapids (ICR) joined together to create one table to showcase why our region is the best in the state! From bourbon and wine from Cedar Ridge, beer from Iowa Brewing and Big Grove, hard cider from Wilson's Orchard and goodies from Almost Famous Popcorn, the Amanas, Frontier Herbs, General Mills, Quaker Oats and Raining Rose, plus University of Iowa give-a-ways, our table proved one of the most popular at the reception.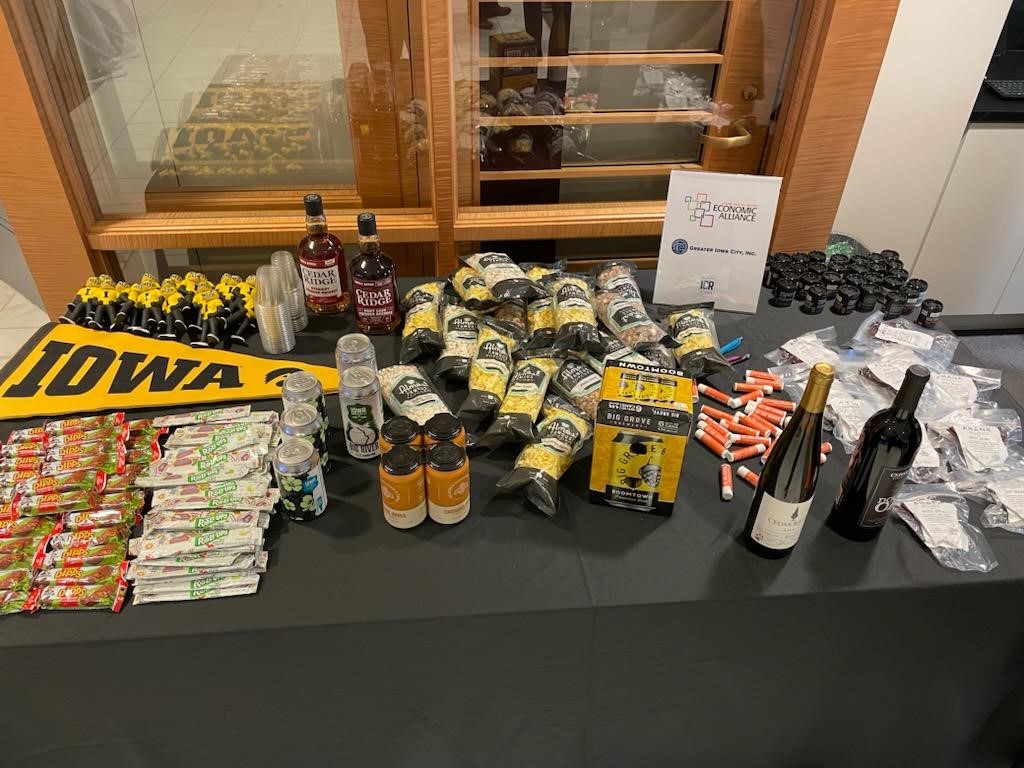 More Funding Available for Community Placemaking Projects
Governor Kim Reynolds recently announced another $6.5 million boost aimed towards increasing tourism and quality of life through the state's "Destination Iowa" program. This follows the last legislative session when the program became a state funded program, resulting from its successful launch using federal dollars. We supported the permanent funding because recreational opportunities are vital to Iowa's talent attraction and retention strategy by creating great community placemaking amenities.
The goal of Destination Iowa is for Iowa communities to make strategic investments that create or support lasting opportunities to attract visitors and enhance quality of life amenities for residents, thereby boosting local economies and attracting talent. Priority will be given to applicants that have not been awarded money from the previously federally funded Destination Iowa fund or other programs intended to support community attraction and tourism projects after July 1, 2018. Eligible applicants include cities, counties and not-for-profit organizations. For more information, visit www.iowaeda.com/destination-iowa-state.
Update – Congress' Fall "Must-Do" List
Government Funding
On September 30, Congress enacted a continuing resolution through November 17 to advert a government shut down. With now a week left for Congress to act and avoid a government shutdown, they are in a similar situation.
Several of the 12 appropriation bills have seen initial action in the two chambers, but final passage of all remains. These bills determine how federal spending is allocated to various government departments that fund transportation projects, housing projects, education and health initiatives, as well as homeland security and more. Congress can either pass all 12 separate or all in one large package known as an omnibus.
If Congress fails once again to pass these appropriation packages by November 17, they can put another continuing resolution (CR) in place to avoid shutting down the federal government. You can view the status of the appropriation bills here.
FAA Reauthorization Act of 2023
The Federal Aviation Administration (FAA) Reauthorization funds activities and programs related to airport planning and development, facilities and equipment, and operation. The House passed the reauthorization in July, but because the Senate did not pass it by the September 30 deadline, an extension was offered and passed as a part of the earlier continuing resolution. Ultimately a final bill must be passed before year's end to avoid aviation policy expiring.
Agriculture Improvement Reauthorization Act (Farm Bill)
The Agriculture Improvement Reauthorization Act, also known as the Farm Bill, is legislation that impacts farming and farming livelihoods. It includes how and what kind of foods can be grown, covers programs for crop insurance, healthy food access for low-income families, and supports sustainable farming practices. In short, the farm bill sets the stage for our food and farming systems. Congress must pass the reauthorization before year's end (or offer an extension of the existing Farm Bill) or many farming programs will no longer exist, and others may return to their original 1950s regulations leaving the modern families that rely on these programs without an option.
Congratulations to the Winners
The Economic Alliance congratulates those who won recent election for city positions, and thanks all candidates who ran. We look forward to collaborating on pro-growth, and pro-business policies.
Cedar Rapids
City Council At-large: Ann Poe and David Maier
City Council District 2: Scott Overland
City Council: District 4: Scott Olson
Hiawatha
Mayor: Steve Dodson
City Council: At-large: Jeff Carter, Ben Fiedler, Aime Wichtendahl
Marion
Mayor: Nick AbouAssaly
City Council At-large: Steve Jensen
City Council Ward 1: Gage Miskimen
City Council Ward 2: Grant Harper
City Council Ward 3: Will Brandt
Robins City Council At-large: Cary Smith, Mike Foley and Leigh Cook
---