 Opening the eyes of the community's younger generation to the many opportunities, resources, and people in the Cedar Rapids metro area is one of the goals of The Leadership for Five Seasons (LFS) Youth Program.
Late last month, the class wrapped up their LFS year with their hands-on class project and Graduation Day ceremony. The youth class this year selected the Catherine McAuley Center (CMC) to give back by helping create welcome cards for incoming refugees, building maintenance and cleanup, storage organization, and help clear up the community garden. For many of the students, this was their first time interacting with the CMC, and many took more out of the opportunity than they had even imagined.
"It's important for our class to be connected with a place in our community that has such a positive outreach with women and children around the Cedar Rapids area," shared LFS Youth student, Regan Murphey. "Making these cards and helping out has been super special."
Fellow LFS student, Nessa Audrey Munyemana, also shared, "Working on a project like this has helped me find myself and be able to bring out skills I didn't know that I had and be able to help my community in different ways. It's so important to be a part of this project because it exposes us as the youth, we are the younger generation that could be taking over, so being involved in this project was important to all of us."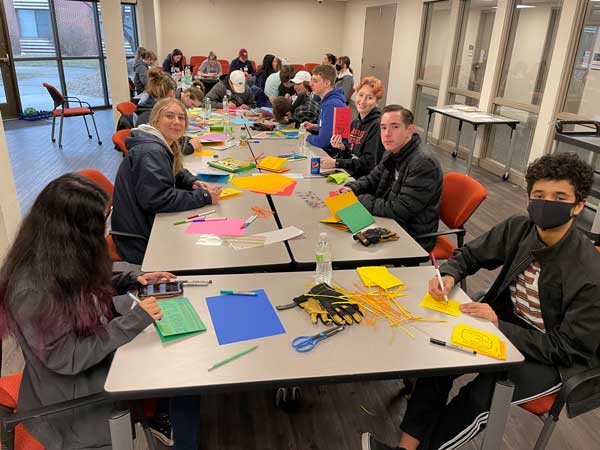 While the students took much from the day, it was also beneficial for the Catherine McAuley Center to share their mission and vision with the younger generation in our area. "This was an awesome opportunity to connect with youth leaders in our community and give them exposure to what we do," says Katie Splean, Volunteer and Outreach Manager at Catherine McAuley Center. "They're helping us do all these great projects so that we can operate efficiently as an organization and meet the needs of the community. Creating an exclusive community, creating relationships, and helping create a welcoming space so our community is a welcoming place for all."
The LFS Youth Program identifies and selects Cedar Rapids Metro area high school students that demonstrate leadership qualities and have a concern for their community. Eight days of in-depth programming from August-March that acquaints students with community needs, opportunities, problems, and resources, while allowing interaction with community leaders, decision makers and each other. The inaugural LFS Youth class participated in 1994 making the 25 students of the 2022 class the 28th year of the program.
Jessica Komisar, Leadership Program & Administrative Specialist with the Economic Alliance, is optimistic the students will take lasting memories and learnings from their time working together, "I hope that the students take away a sense of giving back to the community. For some of them this is their first time volunteering and for some this is their first time hearing about the Catherine McAuley Center. We want to hopefully open their eyes to what the greater needs are in our community so they can take that back to their family's and peers to spark more community volunteerism."
For more information on the Leadership for Five Seasons programs, including how to apply for the upcoming classes, visit www.cedarrapids.org/lfs.
---