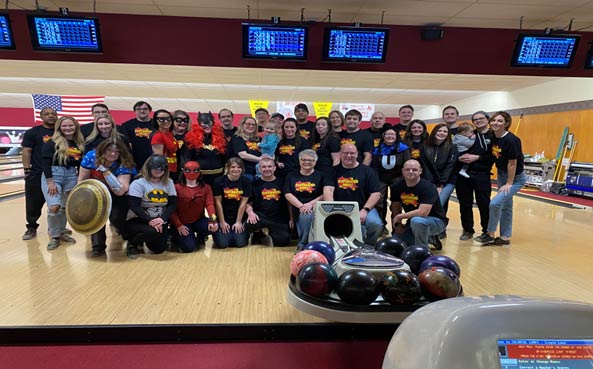 In today's work culture, community engagement has been an integral part of many company missions. Employers often encourage their employees to get involved in volunteering and community service as it not only deepens the bond companies share with the local community, but also provides satisfaction in giving back to the community. Like many businesses and organizations, Riverside Casino & Golf Resort too has the norm of giving back to the community woven into its company culture, a tradition that has spanned more than half of its journey. Riverside celebrates its 16th anniversary at the end of August this year.
The group has put in place its "Winning Hands Program" that has been supporting and promoting employee volunteerism since 2011. Their efforts have not gone unnoticed as they have won the Give Back Iowa Challenge organized by the Governor's office six times over the years, including this year after completing 2,328 hours of volunteer work in the months of April and May.
"Volunteering creates a culture of gratitude, and numerous employees are very thankful for this program which helps the community grow." said Damon R. John, general manager at Riverside. "Aside from it being a part of our mission statement, we believe giving back to the community is simply the right thing to do. And recognizing that everyone's interests and passions are different, we partner with an array of different organizations and causes so that we can appeal to what is important to all of our employees."
Over the years, Riverside's efforts have served local communities in Iowa and those around the country as well. They assisted with the August 2020 derecho clean up in Cedar Rapids and volunteered their time and resources to help support communities in Texas and Kentucky after devastating natural disasters.
"For the challenge, we coordinated employee volunteer efforts across a variety of different initiatives, to include the creation of Literacy Kits for the United Way, packaged meals for Take Away Hunger, conducted a food drive to benefit HACAP of Washington County, hosted a blood drive on site and held several fundraising events, revenue from which was disbursed to various non-profit organizations that were selected by our Winning Hands committee" said Tim Donovan, human resources director at Riverside. "While the Give Back Iowa Challenge is for two months of the year, we have volunteering initiatives throughout the entire year. We incentivize this volunteer culture through an annual $50,000 fund where our employees can donate to a charitable organization of their choosing, an amount that is proportional to their volunteer hours throughout the year."

The group will enter its 16th year on August 31, and on August 27, the group will have a grand celebration on site to mark this milestone. The event will feature a free concert with music by popular country artists Neon Circus and Garth LIVE!, which tribute the work of Brooks & Dunn and Garth Brooks, as well as a fireworks show at dusk. The celebration is set to commence at 7:00 p.m.
Learn more at www.riversidecasinoandresort.com!
---