 TitanTV Finds National Trade Show Success with Local Support
May 9, 2023 | Buy 319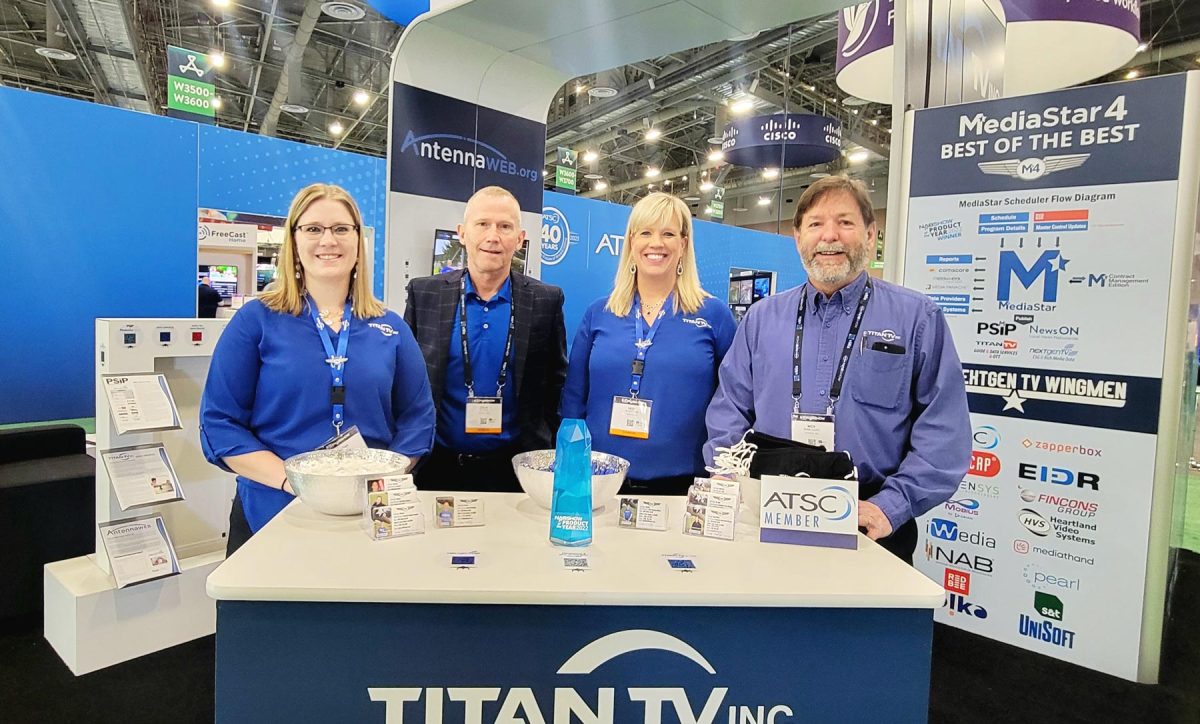 "Efficiency efforts. Let us be your wingman." Words the team at TitanTV, Inc. look to when making efforts to grow their business, as well as bring more of their business efforts to a local level.
TitanTV is the broadcast industry's foremost online software and information provider. It delivers real-time tools for signal prediction, PSIP metadata, desktop and mobile guides, waiver compliance and more. They provide a suite of program scheduling tools that enable broadcasters to efficiently maintain their schedules. Additionally they manage consumer sites, TitanTV.com, a free online television guide, and AntennaWeb.org, a site dedicated to enabling consumers to discover the number of over-the-air channels available from local broadcasters and how to choose the correct antenna to receive them.
A niche in their market, most of TitanTV's book of business is for consumers outside the state of Iowa, which makes them hyper-focused on keeping as much of their operational responsibilities local as possible.
"Our home base is Cedar Rapids, there's a total of 17 of us, and all but two of us work here in town," shares Heidi Steffen, Chief Revenue Officer at TitanTV. "We are mostly all remote, so when we do get together for morning meetups from time to time we make a conscious effort to rotate through local coffee shops – it's an easy way for us to connect on a local level."
With business spanning the nation, the team at TitanTV attends a large trade show each year in Las Vegas, Nevada. It is one of their biggest annual initiatives, and an integral part of their business. Pre-pandemic, the team worked with a company in Las Vegas to put together their trade booths each year, thinking it was their "easiest" option being close to the venue, but presenting challenges when it came to preparing for the actual trade event.
Through attending an Economic Alliance networking event, Heidi was connected to a local vendor company who could accommodate their trade show display needs. "We had no idea a company like this even existed in our area! We were excited for the opportunity, and began meeting and had great ideas, but then the pandemic hit. We were grateful, because we were working with a local company and even though shows were canceled for a couple years they worked with us through all of that," shared Heidi. "Something cool we got to do that we hadn't done before that was nice was the ability to go to their location where they had our booth built out before the show, whereas when we worked with a company in Vegas, everything was done virtually and it was just harder to visualize and connect. We wouldn't know what anything looked like until you were there – a main reason we were thrilled to bring our trade show setup business local."
While they found a great partnership to take local business on a national scale, there are many other ways that TitanTV and team are keeping local top of mind year-round. From their morning meetings at local coffee shops, to employee holidays gifts from local retailers, to business printing and office supply needs, once TitanTV is aware of a local option, they're quick to consider changes.
Heidi was unaware of where to begin until she began interacting at networking events. "Networking can be your best friend. No one in Cedar Rapids is our client. We are a part of the Economic Alliance because we can network with companies that can help us, and in turn we can help them. I find myself so often saying, 'I didn't know we had something like this in our area.' So get out, network, become an Economic Alliance member, use the membership directory, and find who you are looking for!"
---