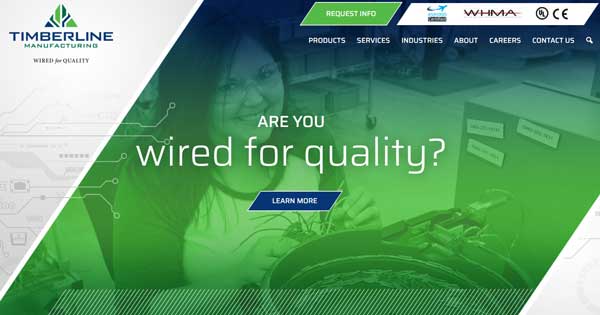 Employee-owned, quality-focused, future-driven. Timberline Manufacturing prides itself on being hyper-focused on a strong foundational message – "How do we GROW?" The state of Iowa has shifted its focus to help companies invest in technological advances that accelerate their business. The team at Timberline Manufacturing is proud to be one of the Economic Alliance member recipients of the Manufacturing 4.0 Workforce Innovation Program grant.
In business since 1993, Timberline Manufacturing has grown to a team of 220 employees. Whether companies are looking for a single prototype or 10,000 units, they promise to be your go-to source for complex electrical sub-assemblies and quality engineering support. Timberline Manufacturing provides an array of manufacturing options with specialization in wire harness assembly, control panels, and electro-mechanical assembly.
The Manufacturing 4.0 Workforce Innovation Program addresses workforce issues by assisting manufacturers that were negatively impacted by the COVID-19 pandemic and that demonstrate the ability to utilize manufacturing 4.0 technologies. To help Iowa's manufacturing industry recover from the pandemic and remain globally competitive, it prioritizes companies that are:
Addressing workforce shortages that are limiting the company in either growth or sales.
Retaining existing employees by refocusing human capital from manual, labor-intensive positions into highly-skilled, value-added occupations through the integration of varying robotic and automated systems.
Helping manufacturers increase productivity, efficiency, and competitiveness through the acquisition of Industry 4.0 technology and equipment.
"We are not looking for the grant to help us eliminate jobs, but rather to help us build skillsets that we have and let technology do the mechanical activities; therefore, letting our talented employee-owners focus on the value add that is more difficult to deploy via technology. We are excited about it," shares Tom Pientok, President and CEO of Timberline Manufacturing.
Timberline has multiple projects already in the works and in the pipeline to implement using the $500,000 grant money they received. Jim Kivell, Director of Operational Excellence, help shed light on these projects which include:
Automated Wire Coiling – Automatic cable coiling machines that will help coil, cut and twist cable to specific dimensions.
UV Cure – Currently the process for this is very manual. This equipment will help reduce quality defects, inefficiency and can chunk out wire at a much faster rate than can be done manually.
Label Printing Center – This center will help consolidate and control creation of labels. and help from a quality stand point. Currently team leads have to walk to an open printer to print labels. This will reduce "travel time." Consolidation of printing will also help reduce errors, therefore improving efficiency.
Automated Guided Carts – These carts will run parts from different work centers in the facility including receiving, shipping, etc. and assist with material movement. This helps employees focus on building, instead of movement of parts.
Projector Build Station – This technology eliminates printed build sheets and provides multiple visual aids for the builders, right on their work surfaces. It will help newer builders understand wire harness building requirements and the build process quicker and clearer. Plus, it allows for much easier incorporation of customer design changes, even while the build is already in process.
Cavity Plug Automation – Specific customer designs need cavity plugs, which can be a very manual and tedious process. Robots will assist with that process, allowing employees to focus on building larger projects instead of this repetitive task.
The team is excited from the standpoint that many of these projects will help make their workloads more simplified, while also giving them more time to focus on exploring and pursuing their passions within Timberline.
"Certainly we are taking advantage of this funding to do many different projects, but in the end it all comes down to how do we grow?" says Pientok. "This grant will allow us to increase our capacity on many levels. All of the projects are geared towards efficiency, productivity and quality. Every single project will lend itself to these three things. And as an end result it will help improve the lives of our employee-owners. Alleviating some of the pain points of things that they don't enjoy, so that they can put their value-added skills to work in other ways."
---