 Cedar Rapids Bank & Trust Celebrates 20 Years as Community Champions
June 23, 2022 | Community Development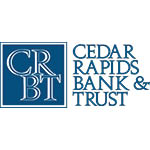 The city's beloved Cedar Rapids Downtown Farmers Market would not have life without the support of like-minded, community-driven businesses to help make it so. While having supported each rendition of the Economic Alliance's flagship since its early days in 2006, Cedar Rapids Bank & Trust (CRBT) has been the presenting sponsor of the farmers market for nearly a decade. Establishing itself as one of the largest open-air farmers markets in the Midwest, the Cedar Rapids Downtown Farmers Market is a hub for local businesses across Eastern Iowa promoting the region's crops, culinary talents, and craftsmanship. Averaging 15,000 people each market day, it's a platform for local businesses and entrepreneurs to connect with buyers and foster local economic growth – a goal CRBT supports through its continuous partnership.
"As a community bank, supporting local businesses is an important part of our mission," said James Klein, president of CRBT. "Being the presenting sponsor is just one way we can help our local small businesses grow, thrive, and gain local exposure. It also helps people experience downtown Cedar Rapids and provides them with something fun to do on a Saturday morning."
CRBT has been contributing to the farmers market since nearly its beginning. With the growth of the bank's size over the years, so too has its commitment to the market and community.
"As we've grown over the last 20 years, we have stepped up our commitment to the farmers market, and the community as well," said Klein, whose sentiments were echoed by Wendy Nielsen, vice president of marketing and public relations at CRBT. "We've grown along with the market. In 2006 when it first started, we were still looking for the key community event we wanted to be involved with, and as we've grown, we felt being a part of the famers market was the right partnership for the bank, our employees, and our community," Nielsen added.
CRBT supports more than 300 organizations in its business endeavors, and its staff contributes nearly 6,000 volunteer hours annually through events like the farmers market. While the group's support for the farmers market helps small and local businesses in and around Cedar Rapids succeed, it has also created avenues for CRBT to better connect with the community.
"The farmers market gives the community an opportunity to put a face to our name, whether it's being able to meet new, and potential clients, or running into many of our current clients. It's a great way to engage and build connections in a different way other than our normal bank setting," said Nielsen. "Apart from making these interactions, the one event that we always promote during the farmers market is our Movies in the Riverbank series, where we invite families to come enjoy three movie nights over the course of the summer at the McGrath Amphitheatre."
The next movie night falls on the same day as a future farmers market on July 16th. Mark your calendars for a day full of cruising the market and local vendors, and later, kick back for a magical evening with family to enjoy the 2021 hit movie Luca with CRBT.
As a community, it's immensely important that we support each other continuously so we can all thrive, succeed and rise together. The Economic Alliance is thankful for the years of support from CRBT and will continue to work together to bring the region it's cherished Cedar Rapids Downtown Farmers Market.
---