 Cedar Rapids Restaurant Week 2022 – 5 Stars From the City of Five Seasons
March 11, 2022 | Business Support
The most scrumptious time of the year has come and gone, leaving plates clean, bellies full, and many diners and restaurants fulfilled and extremely happy. While Cedar Rapids Restaurant Week always creates buzz and excitement throughout the community, the most important role it plays is helping put locally owned restaurants on the map.
"The hardest thing is getting people through the door and making them aware of who we are and what we do," stated Aaron Amundson, director at Groundswell Cafe. "Restaurant Week was an incredible way to help bring in new business, and we're already seeing repeat customers who first tried us during that week."
The raving reviews don't stop there, as the 21 participating restaurants saw an average sales increase of 35.5% over the course of 10 days. Not only is that a great revenue uptick for these establishments, but those dollars spent at participating restaurants are staying local and directly effecting the economic impact of our community in a positive way. More on the success of this drool- worthy ten days included:
Record breaking single day sales at multiple participating restaurants.
Diners waiting patiently even during hours-long wait times.
Restaurant Week specialty menu items selling out within one or several days (and re-stocked).
Full dining rooms and bars with many first-time guests.
This year's Cedar Rapids Restaurant Week began on Friday, February 18 with a live kickoff event at La Cantina Bar & Grill hosted by energetic Z102.9 Morning Scramble Team, Clare Duffy and Eric Hanson. From that event launch through February 28, it was grub on! Foodies, families and friends were encouraged to visit the 21 participating restaurants and try their special menu items that were whipped up by their chefs exclusively for the ten day event. From chicken and waffles and three-layer cheesecake, to margarita flights and sweet corn old fashions, restaurants truly went above and beyond to please all palates that stepped through their doors. Also new this past year were the Cedar Rapids Restaurant Week punch cards, that diners could receive from participating restaurants and gain stamps for their chance to win an exclusive prize basket.
"It's important for dollars to stay within our community because it allows local restaurants to stay open and create wonderful and unique cuisines for our region," stated Maddix Stovie, event planner at the Economic Alliance. "Hearing from all the restaurants about their successes makes me so proud to be a Cedar Rapidian and have the community support our own."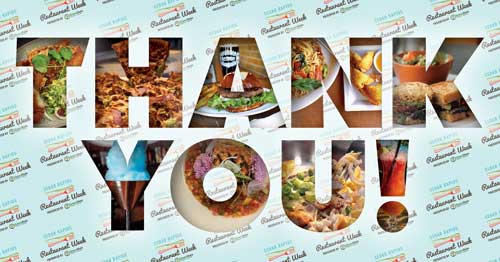 This year, it wasn't just about caution and carry-out like the previous several, but about bringing people together to enjoy the full dining experience back in the seats of each restaurant's unique atmosphere. And with filling those seats, comes the filling of restaurant week owners' pockets and hearts, both in which they very much needed to be able to keep their kitchen lights on and dining room doors open for us all. So, while Cedar Rapids Restaurant Week 2022 has passed, don't stop supporting your favorite local eats and every once and awhile don't be afraid to try somewhere new. Every order means more than you know. See you all for Cedar Rapids Restaurant Week 2023!
---