 Cinco De Mayo Celebrations: Many Local Options to Choose From!
May 5, 2022 | Business Support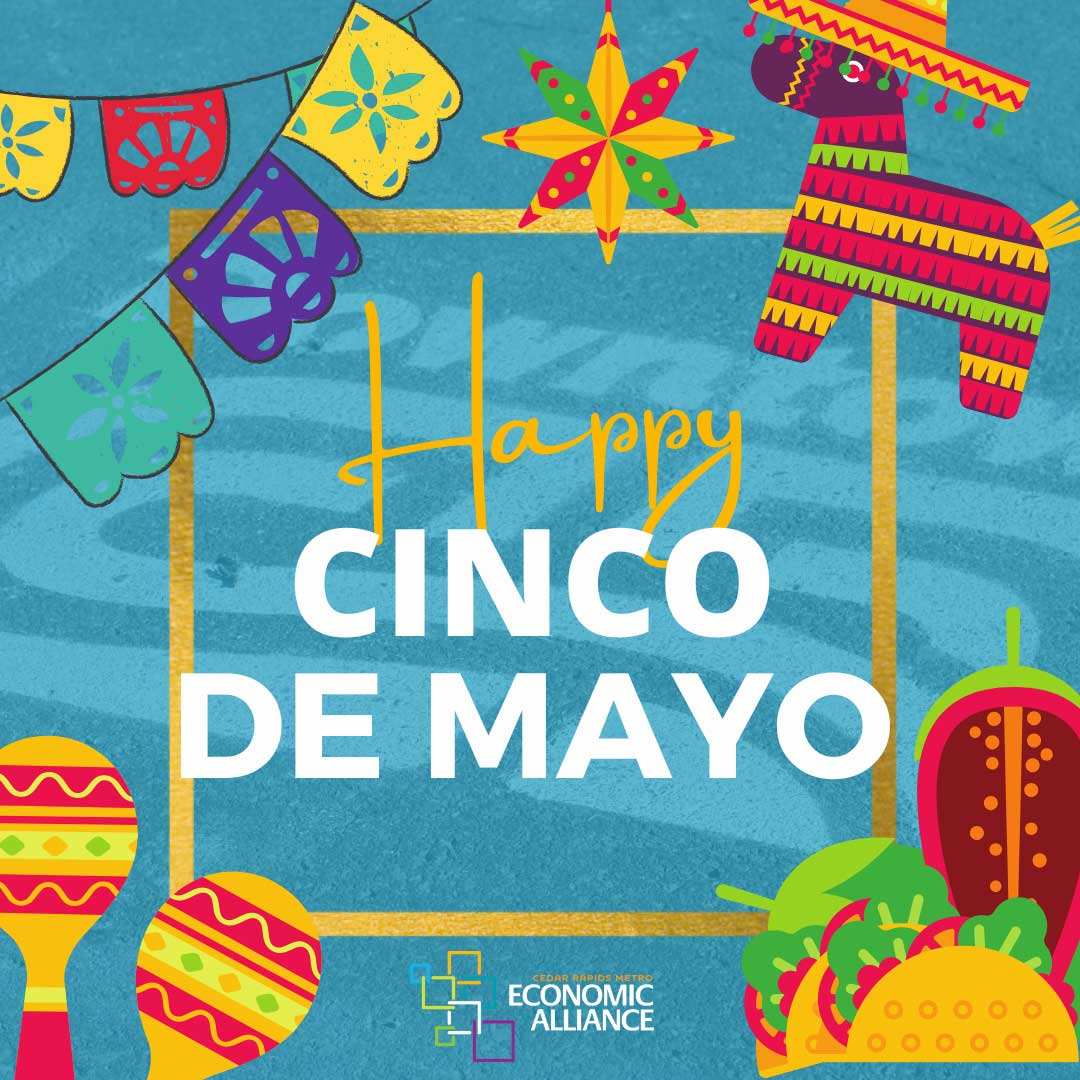 It may not be an official U.S. holiday, but don't tell that to most people in Eastern Iowa. Cinco de Mayo has grown in popularity in the past several years and this year, many local businesses are planning specials and special events to mark the day. To help you plan your day (or evening), the Cedar Rapids Metro Economic Alliance has compiled a list of all things Cinco de Mayo.
"We've noticed a trend in recent years of more people intentionally celebrating Cinco de Mayo," said Doug Neumann, Executive Director of the Economic Alliance. "Even we were surprised by all that's planned locally for this Thursday. This is a good opportunity to support local businesses while celebrating the Mexican American culture."
The list of things to do is widely-varied—from a sombrero game where you could win a key to start a motorcycle to a special event where you can get a new headshot while drinking a margarita, plus many food and drink specials. Here's the list of top events, locations, and specials happening on Cinco de Mayo–May 5, 2022:
Cinco de Mayo Bike Night
Play Pass the Sombrero and win a chance at a motorcycle at a Cinco de Mayo fiesta.
Where: McGrath Hawkeye Harley-Davidson, Coralville
5 p.m. to 9 p.m.
Enjoy tasty Mexican food and ice-cold drinks, plus live music and motorcycles, of course.
Headshot Happy Hour
Enjoy margaritas, snacks and get a new headshot for your dating profile! StudioU and dating profile experts will help you get your online dating profile ready for the summer.
Where: Olympic South Side Theater, Cedar Rapids
5:30 p.m. to 8:30 p.m.
Pre-registration is recommended. There is a cost to attend.
Cedar Rapids Kernels Baseball
The Kernels are at home May 5, taking on the Quad Cities (weather-permitting).
It's Big Screen Thursday, which means fans 18 years old and older can enter for a chance to win one of three 50" big screen TVs to be given away this season.
And what better way to celebrate Cinco de Mayo than with baseball, your amigos and some Mexican fare. La Cantina and Hacienda Las Glorias offer Mexican food and beverages on the concourse behind home plate.
Mexican Food and Bar options
Simply looking for some tacos and margs? The Economic Alliance's Research and Analytics Specialist, Laura Thomas, keeps track of local restaurants and what they offer. She says you currently have 25 metro Mexican restaurants to choose from:
Caucho
La Cantina Bar & Grill–Edgewood
Villas Patio
Casa Las Glorias
Taco Depot II
Adelitas Mexican Grill
Gringo's Café & Catering
El Paraiso Bar & Grill
Papa Juan's Mexican Grille
El Super Burrito & Lupita's Bakery
Mas Margaritas Taco Depot
Hacienda Las Glorias
Miguels Bar and Grill
El Baijo
Los Compadres
Cancun Mexican Grill & Bar
Lucita's Diner
Taco Depot III
La Casita Breakfast Café
Mamacita's Taco Pub
La Chamba
Mi Terra Mexican
La Cantina—Marian
Eva's Mexican Restaurant
Other restaurants and bars are also offering Cinco de Mayo specials:
Mulligan's Pub: Modelos and Coronas for $5 and win a chance at a beach cruiser bike.
Lion Bridge Brewing: margarita hard slushies, fried avocado tacos (vegetarian) and fish tacos with house-made pico and baja sauce.
Cedar Ridge Winery and Distillery: burnt ends queso ($10) and royal margaritas featuring Sir Maple Bourbon Whiskey for $10.
Pedalers Fork: Patron margarita flights (mango, strawberry, raspberry and watermelon) and any purchases of Corona, Modelo, or Pacifico will get you entered to win Modelo Cornhole boards (winner announced May 6.)
White Star: Tinga Tacos and hand-crafted margaritas.
The celebration continues…
Looking to celebrate into the weekend? The Crooked Cactus Band a.k.a. Los Nupales Chuecos plays at the Riverside Casino & Golf Resort Saturday, May 7, from 8:30 p.m. to Midnight.
A quick history lesson:
Cinco de Mayo, or the fifth of May, celebrates the Mexican Army's 1862 victory over France at the Battle of Puebla during the Franco-Mexican War. It is also known as Battle of Puebla Day. While it's a relatively minor holiday in Mexico, it has evolved into a celebration of Mexican heritage and culture, particularly in areas with large Mexican American populations.
The Cedar Rapids Metro Economic Alliance encourages you to have an intentional local mindset and support local establishments and events. Buy local messaging is supported by GreenState Credit Union.
---