 Getting your young professional employees involved in the community is a key retention tool for the Cedar Rapids metro area. ImpactCR is a great place for your employees to get involved in our community, build their own network, find volunteer opportunities and experience what makes our community great.
From recurring after work socials to engaging events with our area's top business leaders, young professionals can find the right connections in the heart of Cedar Rapids and leave a lasting impact. It's a great way for your younger employees to get engaged with other business professionals outside of their organization as well as make connections and friendships.
"I'm so glad I got involved with ImpactCR when I moved to Cedar Rapids five years ago," said board member and social media chair, Taylor Gehrls, UX designer and researcher with UFG. "Through our events and networking socials, I've not only made connections that have furthered my career and opened the door to leadership opportunities in the community, but I've also met some of my best friends. I'm incredibly grateful for this organization and the group of amazing individuals on our board that care about Cedar Rapids so deeply and want to help a younger generation thrive."
Taylor moved to Cedar Rapids for a job in the fall of 2017. "I grew up near Davenport, IA and I like that Cedar Rapids is a bigger city but still has that small town feel. It felt pretty easy to get involved with different people in the community. I liked how open and friendly everyone was. It was just really easy to get involved."
Other board members echo Taylor's positive experience.
"I got involved with ImpactCR after moving back from Chicago and had never lived in Cedar Rapids before. It was a huge adjustment and I wanted to be able to get involved with other young professionals in the area to create a really solid network. I've been able to do that and then some. Everyone is so amazing in this community. Always willing to share their industry knowledge or help you find the right resources. " – Kayla Hesseltine, Sitejabber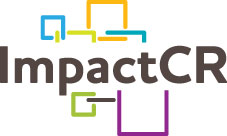 "I got involved with ImpactCR, because Cedar Rapids has a lot to offer young professionals. There are a variety of experiences and places in this town that people just don't know about. I love connecting great people with the amazing things going on in this city." – Jaime Mead, The Overture Group
"Meeting like-minded young professionals, who are not already your co-workers, isn't easy. Having attended a couple of ImpactCR events and gained so much out of it, I liked the idea of joining the board and paying it forward, and helping other individuals like myself connect and engage with people and places in our community. Joining the board has also helped me expand my network even further and make an impact in the community I love to call home." – Pankit Kotecha, Collins Aerospace
Know young professionals in your organization who could benefit from making connections? Hook them up with ImpactCR. And if you think they'd like to lend their leadership skills to the mix, they can apply for the board through September 30th. It's easy!
---