 Hailey's Journey Back to Cedar Rapids
August 9, 2023 | Live Here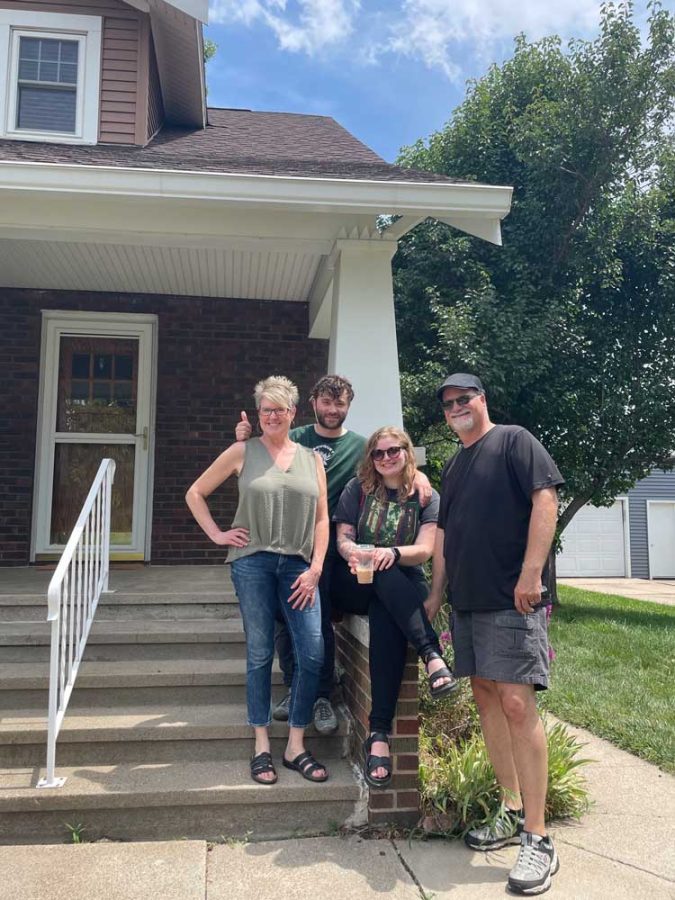 Have you ever felt that tug in your heart, calling you back to where you belong? Well, that's precisely what happened to Hailey Held, employee at the local Raygun. After a thrilling adventure on the West Coast, this Marion native is back in the heart of Iowa embracing her roots. Her journey back was led by her desire to be back home with family, friends and the arts community.
Although Hailey initially wasn't sure about describing Cedar Rapids as a place of belonging, she recognized its incredible support system. The presence of numerous friends, especially talented artists, played a significant role in her decision to return. "I was driven to come back to be surrounded by the great music and art scene my friends are a part of," Hailey explains.
Though reconnecting with her support system and art scene were the main reasons for her return, Hailey soon discovered an added benefit to living in Cedar Rapids — the ability to become a homeowner. In the Pacific Northwest, the soaring housing costs made it a challenge for anyone without a specialized career to achieve their homeownership goals. Hailey and her husband never considered homeownership due to the cost.
"We realized that unless we were in a super high-paying job, owning a home would remain a distant dream," Hailey shared. "But then we discovered that the Cedar Rapids housing market is much more reasonable, and we found a lovely place to call our own. We are so excited to own a home and be a part of an inviting neighborhood!"
Aside from affordable housing, one of the added bonuses that made the move even more appealing was the thriving art and ceramic community in Cedar Rapids. Hailey's husband Ben (they/them), a talented ceramicist, found a perfect match for their passion as well as a partnership with fellow ceramic artist Shumpei Yamaki, a renowned creative known for his stunning wood-fired pieces.
But it's not just the art scene that Hailey and her husband adore; it's the sense of community they found that truly stole their hearts. Cedar Rapids' focus on supporting local businesses and artists creates a sense of unity and belonging that she missed enjoying with friends. She finds it truly heartwarming to see the community come together and support each other and growing together. This includes Cedar Rapids embracing its unique characteristics, like the transformation of Mount Trashmore into a public travel destination. She even gets the opportunity to gaze upon this attraction daily with a clear view from her home.
"I often tell people that I went from one mountain view to another," shared Hailey. "These types of efforts and projects showcase the communities creative and innovative spirit."
Hailey Held's journey back to Cedar Rapids is a testament to the city's enduring appeal and its commitment to fostering creativity and community. With its thriving music and art scene, the city offers talented individuals like Hailey and her husband the opportunity to chase their passions and connect with like-minded people. As Cedar Rapids continues to embrace its unique characteristics and nurture its creative spirit, it stands as a shining example of a city that values its residents and welcomes them back with open arms.
Learn more about why you should join our wonderful community!
---