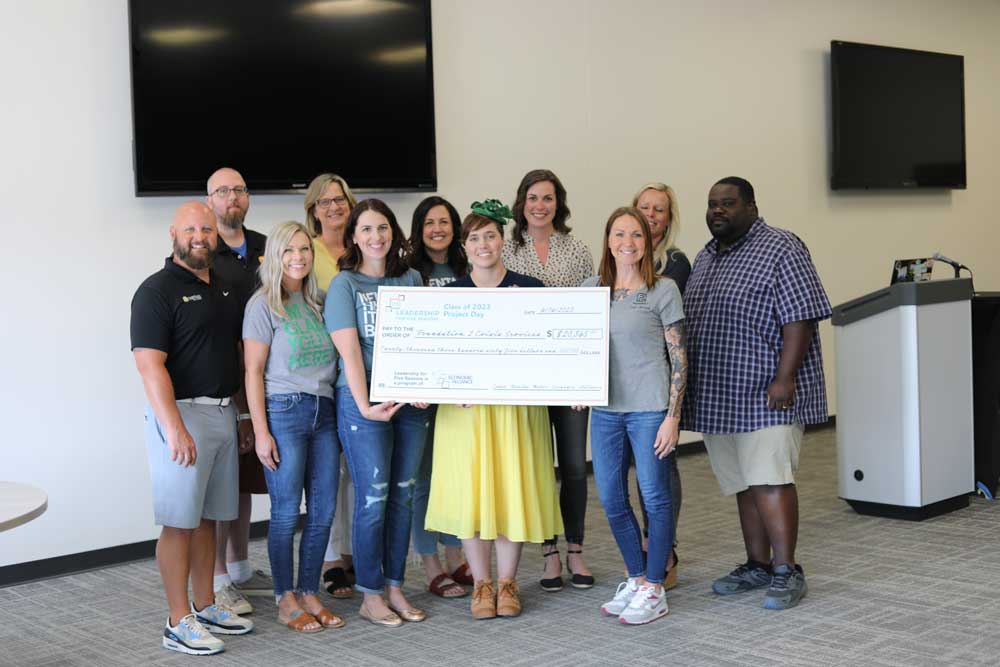 The Leadership for Five Seasons (LFS) Class of 2023 capped off their successful year of leadership education and community betterment projects with a check presentation to Foundation 2 Crisis Services and Tanager. The LFS class donated more than $40,000 to the local nonprofit organizations, which support mental health services for our community.
"Foundation 2 is honored to accept this check to help us further our mission to be a trusted support when life gets tough by connecting with people in crisis 24 hours a day, 7 days a week, 365 days a year," said Emily Blomme, CEO at Foundation 2 Crisis Services. "The last few years have been challenging and we are proud of the impact our nonprofit has had in the helping to address the mental health needs of the community."
"It's an honor Tanager was also chosen as a recipient for the LFS 2023 Class project," said Okpara Rice, chief executive director of Tanager. "We serve over 4,000 children, teens, and young adults each year and these funds will help us continue to offer programs that focus on prevention, treatment, and outreach."
The LFS class members from businesses and organizations throughout the Cedar Rapids metro raised more than $40,000 this year. In addition to this donation, the class also built putt-putt holes for Foundation 2's largest fundraiser and contributed several hours of manual labor in preparation for Foundation 2's move to its new downtown location.
"It wasn't difficult to agree on what our class project should be this year," said Rachael Holland, director of marketing at AMPERAGE Marketing & Fundraising and member of the 2023 LFS Class. "As community leaders, we're passionate about making a difference in people's lives and in our region. Mental health has impacted all of us in one way or another. Supporting organizations that provide brain health services not only strengthens our community but literally saves lives. And that's a big deal."
Leadership for Five Seasons is an annual 10-month-long prestigious community leadership program produced by the Cedar Rapids Metro Economic Alliance with a focus on developing top talent through a formal leadership curriculum, providing participants with community knowledge, connections and inspiration to make a positive impact on the community. The 39-member class raised its own funds and determined how to use the monies to support the community.
---