 Public Policy Update: Regional Business Community Calls for More Representation on State Boards and Commissions
September 19, 2023 | Public Policy
State Policy Update
State Boards and Commissions Revamp
On August 29th, Governor Reynolds along with the Boards and Commissions Review Committee, called for public input on preliminary recommendations to reform and consolidate Iowa's 256 boards and commissions.
The Economic Alliance, along with our partners at the Iowa City Area Business Partnership, support the efforts of the Boards and Commissions Review Committee to make our state boards and commissions more streamlined, efficient, transparent, and cost-efficient for taxpayers. We have long advocated for representation on state boards and commissions to include more expert citizens from outside the Des Moines area, particularly on the boards and commissions that shape industry policies.
Together with the Business Partnership we submitted comments during the public input period stating our support for the recommendation to increase participation from talented and knowledgeable regional business members. In our statement we also encouraged the state to rely on business groups to identify qualified individuals from their communities and eliminate redundant barriers some boards require for more workers to enter high-demand fields. The Review Committee is required to submit a report containing its final findings and recommendations to the Governor and the general assembly no later than September 30, 2023.
Update: Iowa's Youth Employment Law
Earlier this year, Governor Reynolds signed the Youth Employment Law that makes several updates to Iowa's workforce laws for minors. As of Friday September 1st, a letter sent by the US Department of Labor states that this newly passed Iowa code conflicts with Federal Law. Iowa is not alone in updating youth employment laws in recent years, and businesses are encouraged to contact Iowa Workforce Development with specific questions.
Federal Policy Update
Congress' Fall "Must-Do" List
Members of Congress returned to DC following Labor Day after their Summer District Work Period. September is set to be a short legislative month with only 11 days when both the House and Senate are scheduled to be in session at the same time. During those days, they have a list of "must-do" items to accomplish before September 30 arrives.
Atop the to-do list is funding the federal government by September 30, the end of the fiscal year, to avoid a government shutdown. They must also re-authorize the Federal Aviation Administration (FAA) and the Farm Bill, all set to expire Sept. 30 absent congressional action.
Government Funding
The 12 appropriation bills, waiting for a decision by Congress, lay out how money will be allocated out of the federal spending. These appropriations include programs such as national defense, food safety, education, and federal employee salaries.
If Congress fails to pass the federal budget, they must put into place a continuing resolution (CR) to keep the government from shutting down. For convenience you can view the status of the appropriation bills here.
FAA Reauthorization Act of 2023
The Federal Aviation Administration legislation authorizes the budget for the Airport Improvement Program, directs the FAA to expand the agency's capacity to train air traffic controllers, and addresses safety on runways.
The most recent FAA reauthorization legislation was enacted in 2018 and will expire on September 30, 2023. The House has already passed FAA authorization but the Senate's bill is expected to have differences so they will have to reach compromise legislation first. If Congress fails to act on a new long-term measure, spanning from 2024-2028, before the current FAA law expires, key aviation programs including those involved with safety will cease to exist.
For convenience you can view the status of this bill here.
Agriculture Improvement Reauthorization (Farm Bill)
The Agriculture Improvement Reauthorization, also known as the Farm Bill, is legislation that impacts farming and farming business livelihoods. It includes how and what kind of foods can be grown, covers programs for crop insurance, healthy food access for low-income families, and supports sustainable farming practices. In short, the farm bill sets the stage for our food and farming systems.
If Congress fails to reauthorize, many programs will no longer exist, and others may return to their original 1950s regulations leaving the modern families that rely on these programs without an option.
A draft of this bill has not yet been made public.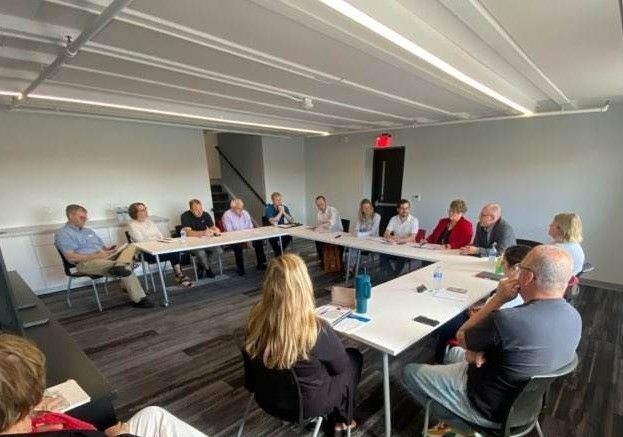 In August, the Economic Alliance hosted staff from the US Senate Small Business Committee, of which Senator Joni Ernst (R-IA) serves as ranking member, for a roundtable discussion with our members. These staff develop policy that directly affects our small businesses and their ability to grow and employ Iowans. The staff heard firsthand from the businesses in our community. It was great to see their interest and enthusiasm as we discussed topics affecting the business community, including healthcare, workforce development, inflation, supply chain and entrepreneurship.
2024 Public Policy Priorities – Survey Results
Earlier this year, we invited members to participate in a survey to share their public policy priorities for the coming year. This survey, conducted until August 18th, is helping to build our 2024 advocacy priorities based on input from leaders in business, education, non-profit, government and economic development throughout the region. The information gathered from the survey suggests that once again the top issue members see as the largest hinderance to doing business is talent availability. These results, along with our full public policy priorities for 2024 will be revealed at the Annual Regional Legislative Launch on December 6th.
Coming Soon – A Voters Guide to November 7th City Election
Get prepared to vote in Linn County! City elections will be held this year on November 7th. The Economic Alliance is a non-partisan organization that does not donate or endorse candidates; we do encourage our members to vote for business and community friendly candidates. Be on the lookout for next month when we publish our annual Voter Guide to help you make your voting decisions.
Get Involved
Click here to learn more about the impact of immigration on our state and region. Click here to join the LIBERTY Campaign and advocate on our federal delegation to act this year on immigration reform.
---