 Ten Things to Watch For in the MedQuarter Regional Medical District
February 24, 2022 | Community Development

As the Cedar Rapids Medical SSMID, better known as the MedQuarter, heads into its eleventh year of operation, the steadfast focus on district improvement continues. Here are ten exciting things to watch for in the coming year.
Beautification
Look for 32 large planters along the major thoroughfares within the district this spring as part of the ongoing effort to beautify the MedQuarter. Each planter will be filled with a variety of colorful flowers, plants, and grasses.
New Bigbelly trash receptacles will be placed along 10th Street SE as part of a pilot project in the MedQuarter. Bigbelly offers solar-powered, sensor-equipped waste and recycling stations that communicate real-time status to collection crews. Last year the Downtown District brought in the Bigbelly smart waste and recycling receptacles to enormous success.
This year, businesses can receive up to $10,000 toward their public-facing building improvements as part of the City of Cedar Rapids and MedQuarter Façade Improvement Grant Program.
NEW Businesses
Watch for new local dining options coming in 2022. Three new restaurants are currently under development and should open by April.
A new event center is in its final stages of construction and should also open soon, attracting new visitors to the MedQuarter.
Plans are underway to expand childcare options available to employees that work in the core districts. The MedQuarter is currently seeking a location and operator for an additional childcare facility.
District Infrastructure Improvement
Be on the lookout for a new pedestrian crossing with curb bump-outs and flashing warning lights on 3rd Avenue between 10th and 12th Street SE. This new crossing will allow for safer passage for pedestrians and employees in the area.
This year parkway and roadway improvements will continue on 10th Street from 1st Avenue to A Avenue NE.
District and Community Outreach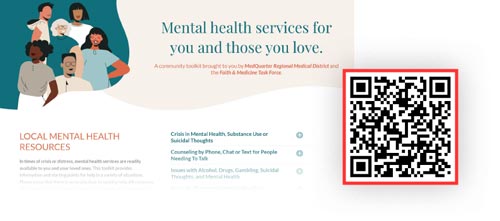 A newly developed Community Mental Health Toolkit landing page launched earlier this month thanks to the MedQuarter's Faith & Medicine Task Force. A group of community mental health professionals saw the need to provide a new resource for those seeking mental health resources. Visit the website at www.GetHelpNowCR.com.
Want to get a job in the MedQuarter? In 2022, the many medical and non-medical employment opportunities available within the district will be listed online at www.themedq.com. The website will also promote the neighborhood feel and conveniences that exist within the MedQuarter.
You can see the full MedQuarter 2022 Action Strategies at TheMedQ.com/about-medq/medquarter-executive-director-medical-ssmid-commission.
---