 With a legacy spanning nearly two decades, the Cedar Rapids Downtown Farmers Market has been etched into hearts and souls of the local community. While there are new faces that join the market every year, a testament to the city's vibrant growth, there are seven vendors that have been an instrumental part of the last seventeen seasons. For these vendors, the market is more than just an extra source of revenue, but a yearly summer tradition in which they've grown strong roots in the market community.
"The Cedar Rapids Downtown Farmers Market is by far the biggest event we are involved with, in terms of the volume of people who come by and as an additional source of income. However, it also has a certain nostalgia to it," said Dave Dill of Dill's Kettle Korn. "What keeps us returning every year is how gratifying it is to have the same people coming back each season, seeking us out by following the distinct scent of kettle corn. There's nothing like seeing little kids running around with their bags of confetti-corn beaming with joy,"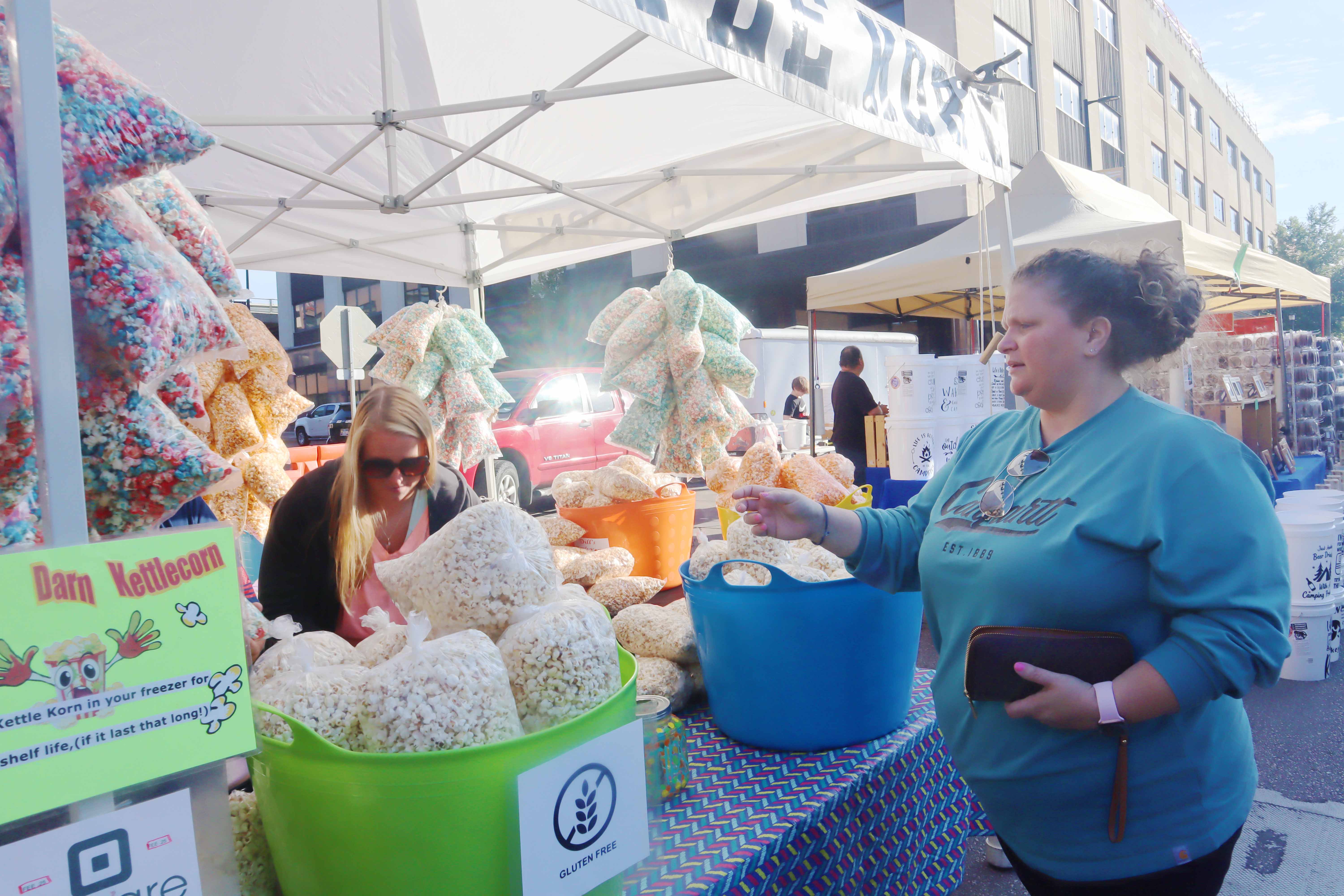 Dave's parents, Jerry and Ruth Anne Dill, started their business in 1995, and what began initially as a lunch wagon selling sandwiches, started popping its first kettle corn in 2002. After his parents retired, Dave and his wife Cindy took over his family's namesake eight years later in 2010. According to Dill, while kettle corn is something that appeals to all ages of people, its demand is slowly picking up speed in 2022 following a stall from the global pandemic.
While the Dills had been in business for more than a decade before their first market, it was within a year of its establishment that Cedar Ridge Winery and Distillery set up its first booth at the 2006 Cedar Rapids Downtown Farmers Market. The award-winning winery began as a pastime for owners Jeff and Laurie Quint when they started their vineyard in 2005. Over the years, they've branched into other spirits that are not just popularly acclaimed in Iowa, but also lining shelves across the nation and around the globe.
"When Jeff and Laurie founded Cedar Ridge, it was initially meant to be a post-retirement hobby. They kick-started the business as a garage-style-winery located in Cedar Rapids, which is now the current location of Benz Beverage Depot," said Anne Rierson, Marketing Director for Cedar Ridge. "Once the vineyard started yielding more fruits and the duo decided to bottle up their products, a following of people who loved their wine began. This gave rise to the Cedar Ridge that we know and love today."
According to Rierson, Cedar Ridge's goal during the Cedar Rapids Downtown Farmers Market is mainly public interaction to seek valuable feedback, while also promoting its on-site events, engaging with the market community and sampling some of its award-winning wines.
"The wine industry is one where people try before they buy. The market is an amazing event for many individuals to sample our carefully crafted wines and receive instant feedback," said Rierson. "Apart from having more people taste our products, it's also a great way for us to share information about our upcoming events with the community."
In addition to Dills Kettle Korn and Cedar Ridge, five other vendors have been part of the starting line-up the past seventeen years including Musil Gardens, Gordy's Goodies, Tabor House Winery, Dotti's Kitchen & Craft Creations, and the Salsa Guy. These seven vendors have been able to bring a sense of timelessness to the market, while the new faces bring novelty to it. This unique symphony of offerings, both trendy and classic, help attract the city's diverse population each year, helping it become a paragon of the Midwest's farmers markets.
The Economic Alliance is thankful for all vendors, past and present, that help give the market life each year. Mark your calendars to experience the next market, and learn more at www.crdowntownmarket.com.
---