 Thinking Beyond the Obvious – The Map Room's Secret Recipe is 319
March 2, 2023 | Buy 319, Membership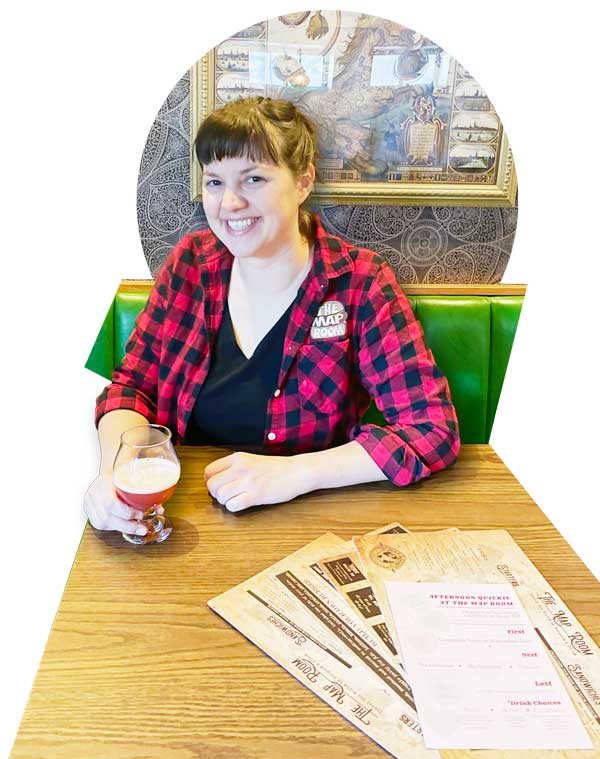 When it comes to having a local first mindset, Christina Springman, owner of The Map Room restaurant in downtown Cedar Rapids, has the recipe down to a science.
"The restaurant industry is super wasteful as a whole. Our goal as a small business is to find ways to make our tiny restaurant have the tiniest footprint possible," shares Christina. "For us, we want to be environmentally conscious in as many facets as possible. Where you source things makes a huge difference. Keeping things local keeps us aligned with our goal."
From a small restaurant perspective, the obvious things to source locally include food and beverage options, which The Map Room has prioritized since the day they opened their doors. Specially crafted house cocktails are concocted using mostly local spirits, local breweries line the taps behind their bar, and area farmers deliver fresh produce and eggs seasonally to their kitchen.
It's the less evident products and services that might be overlooked as pieces a business could outsource locally instead of obtaining from a big-box store, supplier or online company.
"Of course there are nationwide companies that are options for businesses to get their local supplies and services from, but there are lots of locally owned options. At The Map Room we source chemicals for our dishwashers and hand soap from a North Liberty supplier. We get our paint from a downtown Cedar Rapids neighboring business. We print our menus with a local printer even though there are dozens of online options. Even our napkins come from a local business where our supplier literally comes and checks the inventory in our basement. People just assume they are going to buy those things from a large producer, so it's easily overlooked, but we have really close and personal relationships with our suppliers," shared Christina.
The Map Room isn't only thinking about themselves when making these business decisions, but its a conscious choice to lift each other up that is at the forefront of their decisions. Keeping things local creates a sense of community by building relationships among one another. "We support each other because we want each other to do well. You get good vibes when you see businesses working together. It's not competitive, its supportive, it's collaborative, its community. It seems right. It feels good. We need each other," says Christina.
Christina challenges all local businesses to "think beyond the obvious." There are so many ways you can integrate another local business into your own, even though it may not always be feasible in certain circumstances, it is always the goal.
"It is a conscious choice every time. The way that it benefits us, is simply the way it fosters community. The employees and owners of these businesses talk about us, and we talk about them. Word of mouth is the absolute best and most powerful thing. It feels good, even if it isn't quantifiable. It feels so good."
Your dollars, your business, your presence all have an important impact within our community. Let's lift each other up in support so that we can all reap the benefits of a thriving local community.
The Economic Alliance is challenging all businesses in the 319 area to make the conscious decision to switch one of their outside vendors to a local company. The first step is committing to do so, by signing the pledge, and then searching the membership directory of more than 1,100 local member businesses, all located within the 319 region. Sign the pledge. Make the change. Learn how at Buy319.com.
---