 By Doug Neumann and Drew Kamp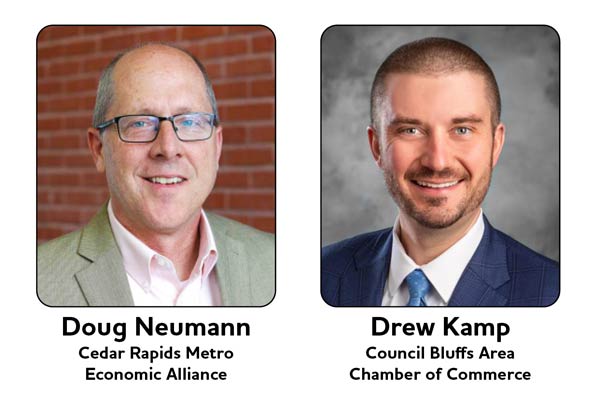 Though it's a long drive on I-80 between Cedar Rapids and Council Bluffs, our regional economies face many of the same challenges and opportunities.
Iowans are working and the unemployment rate is low, at approximately 3% in both of our regions. However, from food service to hospitality to tech to construction, our companies are struggling to find talent. And these challenges threaten to worsen as Iowa's workforce ages and our population stagnates.
One way we can fill these critical jobs and strengthen Iowa's economic future is by welcoming refugees.
Iowa has a rich tradition of welcoming the stranger and helping refugees resettle, adjust and thrive in our state. In just the past year, Iowans have welcomed allies fleeing from Afghanistan. We are opening our doors to Ukrainian families seeking protection from the Russian invasion. Business leaders—including some of our members—have joined with faith communities, veterans, universities and everyday citizens to help our new neighbors restart their lives in safety.
This was the case in Council Bluffs, with our Area Chamber of Commerce leading a bimonthly meeting with other stakeholders to discuss how best to assist the Afghan refugees transitioning to our area. And in Cedar Rapids, health care providers, nonprofits, school representatives and legislators gather monthly through the Immigrant Concerns Group to share resources and best practices for creating accessible services for new arrivals to our region.
This renewed energy for refugee resettlement comes at an essential time. Already, refugees in Iowa strengthen the state's economy, paying at least $219 million in taxes annually and contributing $628 million in spending power. Refugee and immigrant-owned businesses contribute millions more to the state economy each year and employ thousands of Iowans.
These economic contributions are increasingly important given our demographics—in 2020, a full 40% of Iowa's population growth came from immigrants and refugees. This diverse workforce not only helps offset our aging population, but also helps reduce incentives for companies to move their operations elsewhere or overseas.
Yet these fiscal and economic statistics, while important, don't make the most compelling case for why Iowa—and the country—should welcome refugees. The best proof is instead found in the stories and successes of new Iowans like Fourtytwo Yet. Born in Sudan, Fourtytwo came to the United States as a refugee in 2013 after growing up in refugee camps in Kenya. After a first job at Tyson Foods, he has dedicated himself to education and giving back to his new country, earning an associates degree at Iowa Central Community College and bachelors and masters degrees in social work from the University of Northern Iowa. He now works as a lead case manager for Lutheran Family Services in Council Bluffs, supporting new arrivals to the region, and also is a supply specialist in the Iowa National Guard who last year deployed to Kuwait and Qatar to assist Afghan refugees.
Or take the story of Gracie, who came to Cedar Rapids as a refugee from the Democratic Republic of the Congo with her family and young daughters. After losing her husband in a tragic accident, Gracie faced learning a new language, culture and community on her own. Through her own hard work, she's made Iowa her home and learned English, became a U.S. citizen, and received her license as a Certified Nursing Assistant. Perhaps most admirably, she is now a licensed DHS child care provider through a program at the Catherine McAuley Center and is supporting her family while providing culturally appropriate child care for others in the Iowa Congolese community.
But there's more that we can and should be doing to ensure future success stories such as Fourtytwo and Gracie. While President Biden has pledged to increase the number of refugees we welcome, we are on track to fall far short this year. We are asking Iowans to help our country do more.
This fall, the Biden administration will make its annual determination on how many refugees the United States will resettle in the upcoming fiscal year. Ahead of this, state and local elected leaders in Iowa should join hundreds of bipartisan officials from across the United States in signing onto a letter that calls on the President to rebuild an effective resettlement program.
Since we took in refugees of the Vietnam War, Iowa has proudly stood as a national leader when it comes to welcoming families fleeing violence, persecution and war. Now is the time for our state and local elected leaders to stay true to this legacy and help rebuild a robust refugee resettlement program to promote Iowa's values and interests.
Drew Kamp is president and CEO of the Council Bluffs Area Chamber of Commerce. Doug Neumann is the executive director of the Cedar Rapids Metro Economic Alliance.
---