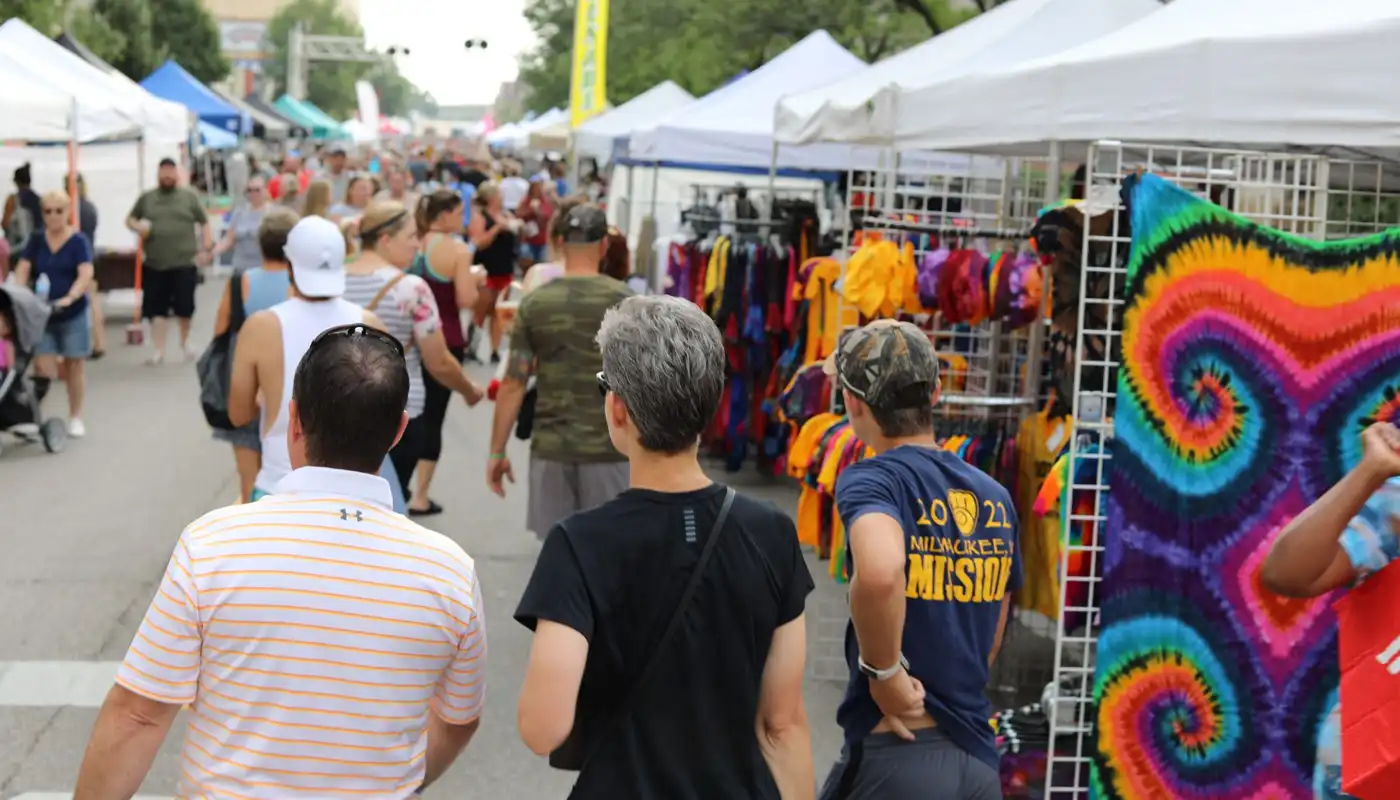 Market Tips
Suggestions to make the most of your market morning We look forward to seeing you at the market!
Mug Club is Back!
Mug club is back! Stop by the info booth to purchase your official Cedar Rapids Downtown Farmers Market Mug Club tumbler for $10, and receive discounts and incentives from this list of vendors all season long!
This season, not only can you get discounts on your favorite morning beverage, but look for additional promotions from artisan and prepared food vendors alike!
We look forward to seeing you these Saturdays!
May 27
June 3
June 17
July 1
July 15
August 5
August 19
September 16
Weather
Bring an umbrella! We're a rain or shine market, so we'll be open unless there is severe weather (lightning, thunder, high winds, air quality, etc.) In the rare instance that our market closes, you will find that information on social media, as well as local radio and television stations.
BYOB
Bring Your Own Bag! Our market has nearly 200 vendors selling everything from fresh produce, cheeses and meats, to beautiful hand-crafted artisan gifts. Bring a bag (or three!) to take home all of the local goodies.
Food Accessibility
The Cedar Rapids Downtown Farmers Market is proud to offer a variety of ways to utilize federal food assistance benefits like SNAP, WIC/Senior FMNP and Double Up Food Bucks. See the chart below for an explanation of how to use each for qualifying patrons!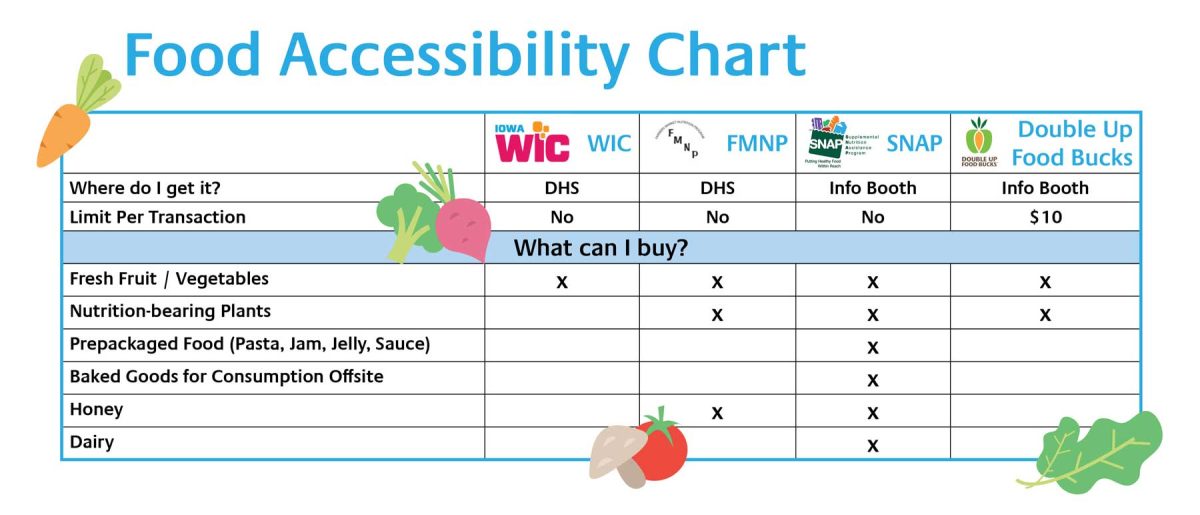 Pets At The Market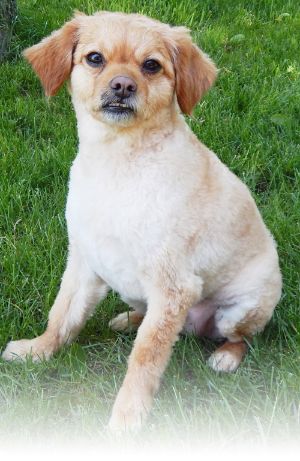 Be kind to your pets; consider leaving them at home. Our Downtown Farmers Market can be crowded with customers and products, and the environment isn't conducive to animals. If patrons choose to bring their pet, they're expected to act in a responsible pet-owner manner, and abide by the rules listed below. We want all of our visitors to have a safe, clean and enjoyable experience.
Pets must be on a leash no longer than three feet and must be kept by their owner's side at all times.
Pets must be under control and well behaved while in the market venue.
Pets must be kept away from produce, plants and prepared food products.
Pets must be sociable with those attending the market (including humans and other animals) or they may be asked to leave the market.
Pet owners need to be understanding that not everyone is an animal lover, or comfortable around animals.
Pet owners must clean up after their pet and need to bring the appropriate items to do so.
In addition to our market policies, there are some city ordinances that pertain to pets at venues such as the Farmers Market. Find information on those ordinances by reading the City Animal Ordinance.
PLEASE NOTE: Farmers Market staff and volunteers reserve the right to ask any pet owner to remove their pet from our venue at any time and for any reason. Pet owners will be held liable for damages caused by animals at the market.
Thank you for your respect and cooperation!
Health and Safety
If you are feeling ill or are running a fever, please do not attend the market to protect the health and safety of fellow patrons, vendors, and volunteers.
Smoking
Pursuant to the Iowa Smokefree Air Act, the Downtown Farmers Market is a smoke-free venue. Please refrain from smoking inside the barricades of the market at all times. For more information, please visit www.iowasmokefreeair.gov or call 1-888-944-2247.
What's Fresh Now
Our seasonality chart will give you an idea of what produce is fresh this time of year. You can check the Our Vendors to find vendors selling what you are looking for!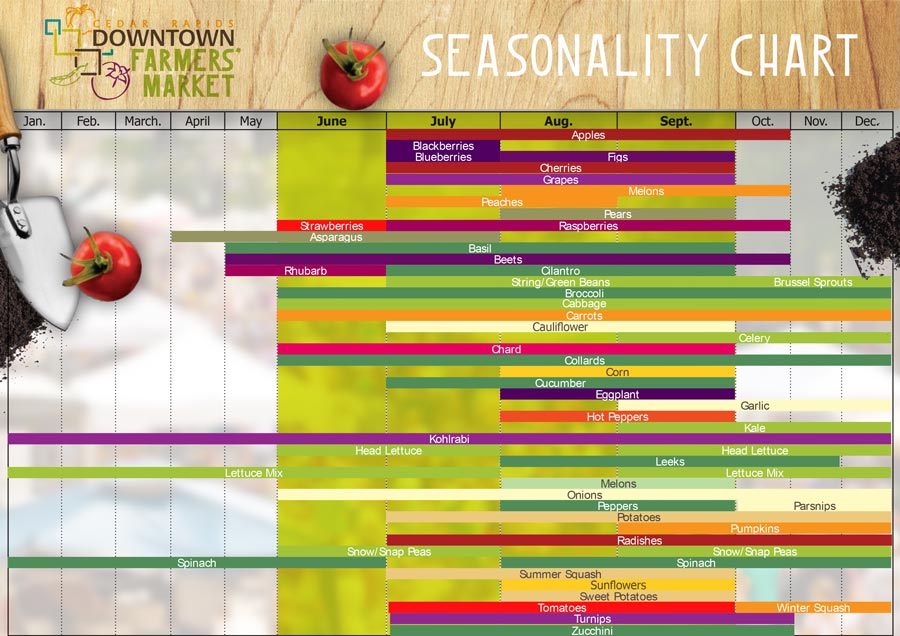 Fresh Tips
Storage
Peppers may be refrigerated as long as they stay firm.
Strawberries should be washed and layered on the bottom of a pan to refrigerate, with caps left on.
Potatoes should be stored in a dark location between 35-40 F.
Refrigerate broccoli or cauliflower, use broccoli within one to two days and cauliflower within three to five days.
Rhubarb may be refrigerated from two to four weeks in a plastic bag.
Sugar snap peas should not be washed before refrigeration.
Freezing
Pack produce closely without damaging to exclude as much air as possible.
To preserve freshness and nutrients, freeze vegetables and fruits promptly
Drain water well after washing or boiling.