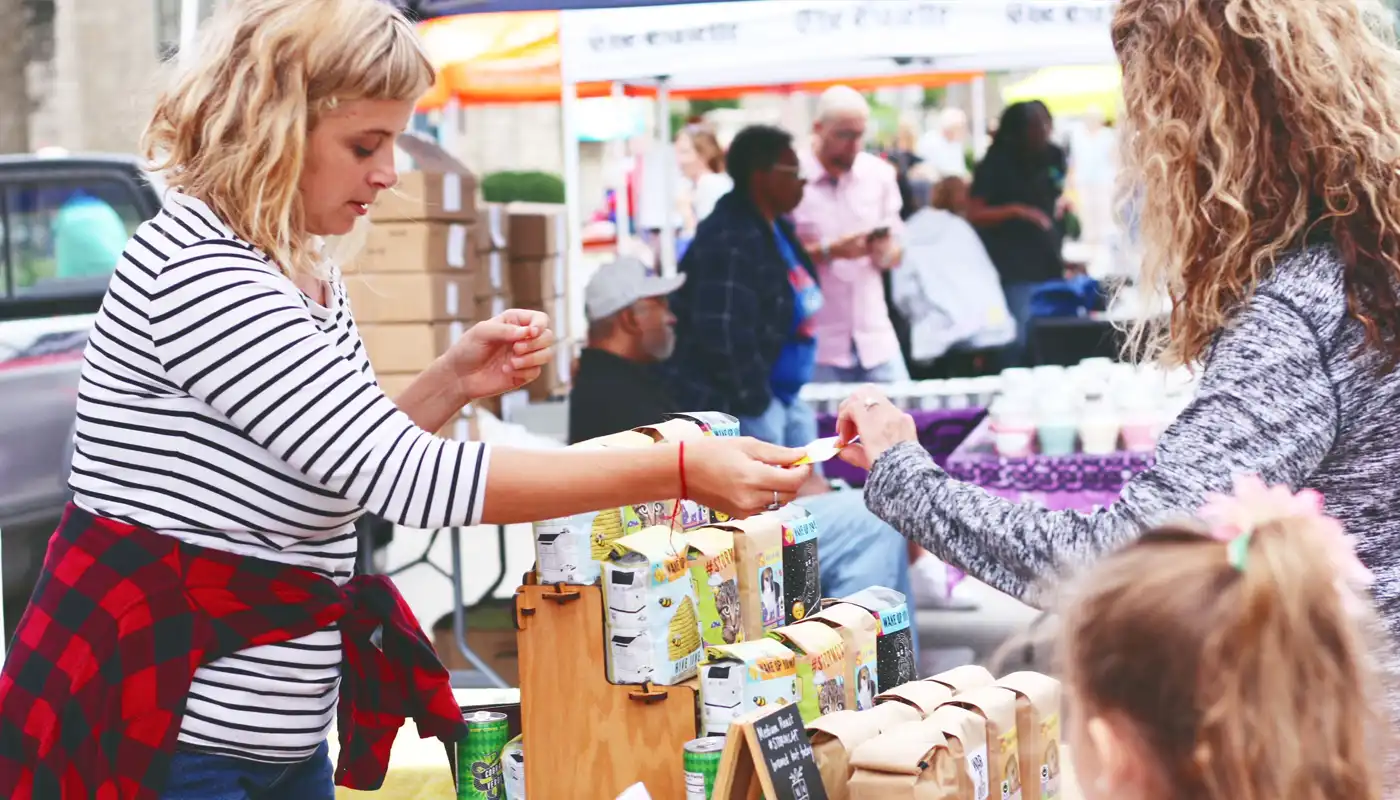 Be a Vendor
All the details you need to sign up Interested in vending at the Downtown Farmers Market?
Great! Check out the information below for application instructions and to submit your application.
Vendor Application Process
Vendor applications are open below for the 2023 season. Vendors interested in applying for all eight market dates must apply before February 28 to be considered for a full market season.
When applying to the Cedar Rapids Downtown Farmers Market, you will be asked to review the 2023 Vendor Handbook where you'll find information on vendor fees, policies and procedures.
FAQs
How much is a space?
Vehicle Stall (25'X15′) – $55/market date approved
Non-Vehicle Stall (10'X10′) – $35/market date approved
How does the selection process work?
The Selection Committee will begin reviewing applications in March.
Traditional market products (produce, flowers, meats, wines, etc.) are always given first priority. Additional vendors are selected based on quality, uniqueness and diversity of product, as well as booth/table presentation.
Questions about the application process should be directed to market staff at events@cedarrapids.org or 319-398-5317.
How does the Selection Committee pick vendors?
While type of product and product quality are of the utmost importance to our Selection Committee, there are a few things you can do to make it easier for our committee to select your application. Make sure you consider the following when applying:
– Complete & Updated Information- Your profile should have the correct information- business name, mailing address & email address.
– Correct Category- Make sure the business category you select reflects your primary products. For example: while you may sell a few tomatoes, if the majority of your products are cutting boards and wood products, please make sure to select "Artisan", rather than "Produce & Flowers" or "Farm" when applying.
– Accurate Product List- Make sure your list is up-to-date and accurate. For instance, "Baked Goods" as a product isn't as helpful as "pies" and a list of flavors, and "cookies" with several varieties listed.
– PHOTOS- This can make or break an application. Provide several photos of your products! Additionally, photos of your booth display are not mandatory, but suggested.
I'm not like your other vendors. How do I fit in at the Downtown Farmers Market?
Please review the Vendor Handbook for information about franchise businesses, downtown businesses and sponsors.
I don't remember my FarmSpread username/password.
Try using the FarmSpread tool here. If that does not work, please email support@farmspread.com for any account needs.
If I'm placed on the wait list, when will I be notified of a space available?
We make every effort to notify vendors as soon as possible when space becomes available. We attempt to fill booths with similar types of vendors. For example, if a painter isn't available to fill their space, we look for a painter on the wait list.